Jamaica
Rastafarians, Reggae, Dreadlocks & Jerk. Exploring The Longstanding Resort-Heavy Jewel In The Caribbean Tourist Industry's Crown
Traffic light service in Kingston, Jamaica. May 13, 2015
Jamaica, the land of Rastafarians, reggae, ganja, jerk, dreadlocks, Bob Marley & Usain Bolt and the Caribbean's original all-inclusive resort hive; it's probably the most famous Caribbean resort island of them all, especially with Americans. I hadn't realised how dependent the island was on the tourist dollar. I guess you wouldn't until such time as you do what I did and visit the island. And when I did I was one of the few (it's all relative, of course) who didn't arrive in Jamaica on board a cruise ship, one of the few who didn't fly into Montego Bay's Sangster International Airport, & one of the few who didn't call one of the island's numerous resorts home for the duration of my stay. I'm not claiming to be some sort of independent-travel-in-Jamaica trailblazer but with the country's tourist industry so geared towards the needs and whims of the package tourist, any kind of independent travel embarked up here, like the clockwise self-drive loop of the 11,000 km² island I undertook, has you really feeling like you're going against the grain.
BRIEF HISTORY & TOURISM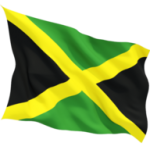 Christopher Columbus landed on the island of Jamaica in 1494 on his second voyage to the New World making contact with the indigenous Tainos, who had arrived some 700-800 years previous, & claiming the island for Spain. Within 3 decades the local population was decimated by the combination of European illnesses & forced labour prompting the Spanish to introduce West African slaves to the island; the majority of Jamaica's present-day population of 3 million trace their roots back to these African slaves. The English attacked a weakly defended island in 1655 causing the Spanish to retreat to Cuba; Spain officially ceded the island to the British in 1670 as part of the Spanish-British Treaty of Madrid. The British, and off the back of slavery, turned the island into the world's largest sugar producer during the latter half of the 18th & first half of the 19th centuries. Sugar remained the big earner, helped by the introduction of indentured Indian labourers to fill a labour shortage following the 1834 abolition of slavery. Bananas, too, with exports of those peaking in the late 1920s. Jamaica's first political party was formed in the late '30s sowing the seeds for independence from the UK which came in 1962.
Heavily indebted to foreign banks, today Jamaica is looking beyond the old reliable US of A for foreign investment, especially to China, while (still) very heavily reliant on the tourist dollar; Jamaica was the first Caribbean island to fully realise the potential of tourism and the mark it stole on its regional neighbours in this regard accounts for the relative maturity of its tourist industry today, not to mention the overdevelopment of stretches of its resort-peppered western & northern coasts.
Kingston
Jamaica's capital & economic & cultural hub, a city of chaos, noise, traffic, humanity, shabby squalor & intimidation.
Kingston, the capital & economic & cultural hub of Jamaica, was my introduction to the island, but only briefly & only after we, Liam my travel buddy and I, landed from Grand Cayman, picked up the hire car and drove from Norman Manley International Airport to the city's outskirts, a 14 kilometre drive hugging the shores of the world's 7th largest harbour. Cue the chaos.
Mandeville
The island's cool Central Highland capital, a town devoid of attractions & tourists but heavy on eagle-eyed clampers.
The left side of the road is the right side, the right side of the road is suicide.
– An old Jamaican saying about driving its road.
It was decided to hire a car for our our time in Jamaica, primarily because of a desire to be mobile & see as much as possible for the limited time we had at our disposal. This coupled with the relative slowness & limitations of public transport, not to mention expense of taxis for short trips, made hiring a car an obvious choice. I've driven in some pretty testing environments over the years so I wasn't perturbed by stories of cavernous potholes on narrow, winding roads, a total lack of signage, or even of the crazed drivers that try to make the country's diabolical roads their own, totally belying their off-the-road laid-backness. Yes, we could, and did, handle all of that. But we never took getting clamped into consideration.
Devoid of major sights per se, Mandeville is best enjoyed as a pit stop for people who want to see the island from a different (Jamaican) perspective. Grab a patty from a scruffy shopping mall, be a spectator to an alfresco game of dominoes, of just shoot the breeze with the local taxi drivers/shop assistants/rastas in the busy central square. Welcome to the real Jamaica, mon!
– Lonely Planet Jamaica
Treasure Beach
Jamaica's remote & comatosed resort & hassle-free ocean-side retreat, the best place in Jamaica to escape Jamaica itself.
A little over fifty kilometres along tight winding country roads from Mandeville (with an insufficient map & no road signs, we really had no idea if we were going in the right direction, happy to get lost as distances were we to do so were short) and we eventually reached Treasure Beach, probably the place in Jamaica to escape Jamaica itself.
We intended to overnight in Treasure Beach. That was the plan driving there and that was still the plan upon arrival early afternoon. But comatosed Treasure Beach was just a tad too comatosed for us; chilling is one thing, being bored another. So, and having already driven 170 kilometres, we pushed on for another 100 kilometres, and 2+ hours in the car, for Negril at the extreme west of the island via the mostly coast-hugging A2. A friendly old man sitting outside his abode in Treasure Beach set us off in the right direction, the police en route ensuring we were still on the scent, once they'd given our documents the customary once-over, told us not to speed, told us to watch out for the potholes, and wished us well for the rest of our time in Jamaica. All told it was an eventful day driving the roads of southern & central Jamaica.
Negril
Jamaica's busy blemished-western-coast party town, the 1970s hippy hive that still draws the hedonistic hordes today who party from one Caribbean-best sunset to the next.
Stretching along more than 16 kilometres of shoreline on the island's western tip, Negril is Jamaica's pleasure-seeking party resort town. This is where Jamaican tourism first made it big. As recently as the late 1950s Negril was a small fishing village. Then came a road (in 1959) followed by electricity, the telephone & the hippies, lured here in the '70s thanks to killer beach sunsets & an anything goes liberalism that still draws the hedonistic hordes today. Negril, where the waft of ganja is never far away; seemingly Jamaica's best marijuana is grown nearby. (I was surprised to learn that, and while widely available, marijuana is strictly illegal in a country so closely associated with it).
Montego Bay
Jamaica's second and most polished city, MoBay is home to a busy cruise ship terminal and the country's largest airport, one that welcomes 80% of all visitors to the country.
It's a short 80-kilometre, 90-minute drive from Negril to Montego Bay along the coastal A1. Home to the country's largest airport and a busy cruise ship terminal, MoBay, as everyone calls it, is Jamaica's second city. I hadn't heard too many positives about it prior to arrival (Lonely Planet describes it as 'an unremarkable city of clamour and traffic') but there's a certain polished look to MoBay that's absent elsewhere. It's easily the most developed Jamaican city or town, primarily because of its gateway status – 80% of visitors choose it as their port of entry to the country, almost 100% of which are destined for one of the numerous beach resorts outside the city's commercial core or lining the island's northern coast east of the city.
Falmouth
It had fresh running water before NYC did. Historic Falmouth, an open-air museum of colonial wooden architecture & Jamaica's best-preserved town.
Bidding a teary Liam adieu at MoBay's Sangster International Airport, I continued on my merry way along Jamaica's northern coast, a region that is integral to the Jamaican tourist industry – the northern coast outside MoBay is dotted with all-inclusive, high-end resorts hidden behind massive walls. I passed them all by and after about 30 kilometres I took a left turn off the coastal A1 to deviate into historic Falmouth, somewhere that shouldn't be bypassed.
Jamaica's historical masterpiece that still retains the grit of its slave-era roots
– Lonely Planet Jamaica
I had a quick scoot around Falmouth. If time is limited that's all that's needed and it's perfect if, like me, you're wary of getting clamped (once bitten, twice shy). Chances are if you do visit Falmouth, it'll likely be as part of a cruise – the town is now the proud owner of a cruise ship terminal, Jamaica's third after MoBay and Ocho Rios further east.
Bob Marley || The (Unavoidable) Soundtrack Of A Jamaican Road Trip
It's not just carefree travellers in carefree traveller hangouts the world over who listen to Robert Nesta 'Bob' Marley ad nauseam. Jamaicans do too. My abiding memory of driving around Jamaica, including the 70-kilometre stretch of the northern A1 between Falmouth & Ocho Rios, is Bob Marley on the radio interspersed by motormouth DJs (that you need to concentrate intently on in order to understand their verbalisations) interspersed by annoying adverts for Digicel, the island's very popular, very visual & very vocal mobile phone network provider. Bob, who emerged in the mid-1960s at the height of the ska era in Jamaican music to become, as Lonely Planet claim, the first global superstar of the developing world, is, and not surprisingly, all over the Jamaican airwaves; he'll be wherever you decide to go when turning the radio dial while exploring the roads of Jamaica.
Music is life in Jamaica, and you'll soon find yourself swaying along with it
– Lonely Planet Jamaica
Robert Nesta 'Bob' Marley (February 6 1945 - May 11 1981)
Bob was a singer-songwriter and one of the first and most famous Jamaican musicians to make the transition into the mainstream. He was the rhythm guitarist and lead singer for the ska, rocksteady and reggae band Bob Marley & The Wallers (1963-1981). Marley remains the most widely known and revered performer of reggae music and is credited with helping the spread of both Jamaican music and the Rastafari movement to a worldwide audience.
Marley's music was heavily influenced by the social issues of his homeland, and he is considered to have give voice to the specific political and cultural nexus of Jamaica. His best-known hits include 'I Shot the Sheriff', 'No Woman, No Cry', 'Could You Be Loved', 'Stir It Up', 'Get Up Stand Up', 'Jamming', 'Redemption Song', 'One Love' and 'Three Little Birds', as well as the posthumous release 'Buffalo Solider' and 'Iron Lion Zion'. The compilation album Legend (1984), released three years after his death, is reggae's best-selling album, going ten time Platinum, which is also known as one Diamond in the US, and selling 25 million copies worldwide.
While flying from Germany to Jamaica, Marley's vital functions worsened. After landing in Miami, Florida, he was taken to the hospital for immediate medical attention. He died at Cedars of Lebanon Hospital in Miami (now University of Miami Hospital) on the morning of May 11 1981, at the age of 36. The spread of melanoma to his lungs and brain caused his death. His final words to his son Ziggy were "Money can't buy life". Marley received a state funeral in Jamaica on May 21 1981, which combined elements of the Ethiopian Orthodoxy and Rastafari tradition. He was buried in a chapel near his birthplace with his red Gibson Les Paul (some accounts say it was a Fender Stratocaster).
His voice was an omnipresent cry in our electronic world. His sharp features, majestic looks, and prancing style a vivid etching on the landscape of our minds. Bob Marley was never seen. He was an experience which left an indelible imprint with each encounter. Such a man cannot be erased from the mind. He is part of the collective consciousness of the nation.
– Reproduced from an infoboard at Dunns River Falls outside Ocho Rios, northern Jamaica.
Dunns River Falls
Jamaica's best natural wonder is also its most visited and most commercialised attraction, a rather unique series of small limestone cataracts that form a natural stairway from sea to summit.
I hadn't initially planned on visiting Dunns River Falls, 4 kilometres west of Ocho Rios on the island's north coast. But I stopped off en route from the coast back to Kingston mostly out of curiosity. I'd heard of the attraction, but little else. I thought it to be a waterfall (obviously) and while that's exactly what it is (more a set of waterfalls), I didn't expect to have to pay US$20 to see it and nor did I expect to discover Jamaica's best natural wonder to be the commercialised tourist circus that it undeniably is. In hindsight, I probably should have known better.
Caribbean Island Hopping || Jamaica To Haiti
My Caribbean island hop continued post Jamaica with a short twin-prop InterCaribbean flight across the Caribbean Sea to Port-Au-Prince, Haiti, the poorest country in the Western Hemisphere. And what an eyeopener that was to prove to be.