EPIC US ROAD TRIP 2017
DAYS 22-25 - KENTUCKY & THE GREAT LAKES - KENTUCKY, OHIO, MICHIGAN & NEW YORK
Image || Railroad Street, Olive Hill, Carter County, Kentucky.
Epic US Road Trip 2017 – Kentucky & The Great Lakes
We were just passing through. Four days and 1,506 miles of passing through. Having gorged on the history & music of the Eastern Seaboard & The South for three weeks straight, Kentucky & The Great Lakes offered something of a respite. It got chillier day by day and what leaves we saw as we approached a New England fall enticed. Yes there were highlights, a return to rural Kentucky, a quick box-ticking foray into (& out of) Michigan, the shores of Lake Erie & the shrine to America's pastime that is the Cooperstown's Baseball Hall of Fame the notable highs from this portion of the wider road trip, but the feeling that we were only passing through never abated, not until the job was done and were were perched by the shore of New York state's Lake George on the very edge of New England itself. And in getting us there Kentucky & The Great Lakes region, and just like it did last year, did a damn fine job.
EPIC US ROAD TRIP || Day 22
Rural. On the Tennessee/Virginia State Line, US 33, Hancock County.
"Shunning US Interstates, and in a successful bid to join the cartographical hometown dots of many an old-time country music or bluegrass heavy hitter, we went deep off the beaten track for a total of 307 green & windy miles through northern Tennessee, southwestern Virginia and southern Kentucky. Three states, 300+ miles and many a small-town USA highlight, none of which you'll find in any guidebook."
Day 22 || October 18 2017
Route || Knoxville, Tennessee to London, Kentucky.
Miles (Kilometres) Driven || 307 (494)
Today's Highlight || Rural, small-town USA
We went rural today, road trip day 22. Shunning US Interstates, and in a successful bid to join the cartographical hometown dots of many an old-time country music or bluegrass heavy hitter, we went deep off the beaten track for a total of 307 green & windy miles through northern Tennessee, southwestern Virginia and southern Kentucky. Three states, 300+ miles and many a small-town USA highlight, none of which you'll find in any guidebook. I guarantee that.
Tennessee To Kentucky Via Virginia
Almost, but we weren't quite done with musical Tennessee just yet. Suffice it to say, we took an alternate route today in getting from Knoxville (back) to neighboring Kentucky via (southwestern) Virginia. As I said, we were joining the rural dots while crossing quiet state lines. First up today was Maynardville, 25 miles north of Knoxville.
Maynardville
Tennessee (TN) || Founded as Liberty & renamed after ex-congressman Horace Maynard, Maynardville bills itself as 'The Cradle of Country Music'. And why not. Country singers Carl Smith (1927-2010) and Roy Acuff (1903-1992) were born here. Both are Country Music Hall of Fame inductees (Acuff, 'The Smoky Mountain Boy', was inducted in 1962 as the first ever living inductee, & Smith in 2003) & both are commemorated by plaques embedded in the wall of the town's boxy Union County Court House.
He's the biggest singer this music ever knew. You booked him and you didn't worry about crowds. For drawing power in the South, it was Roy Acuff, then God.
– Hank Williams commenting on Roy Acuff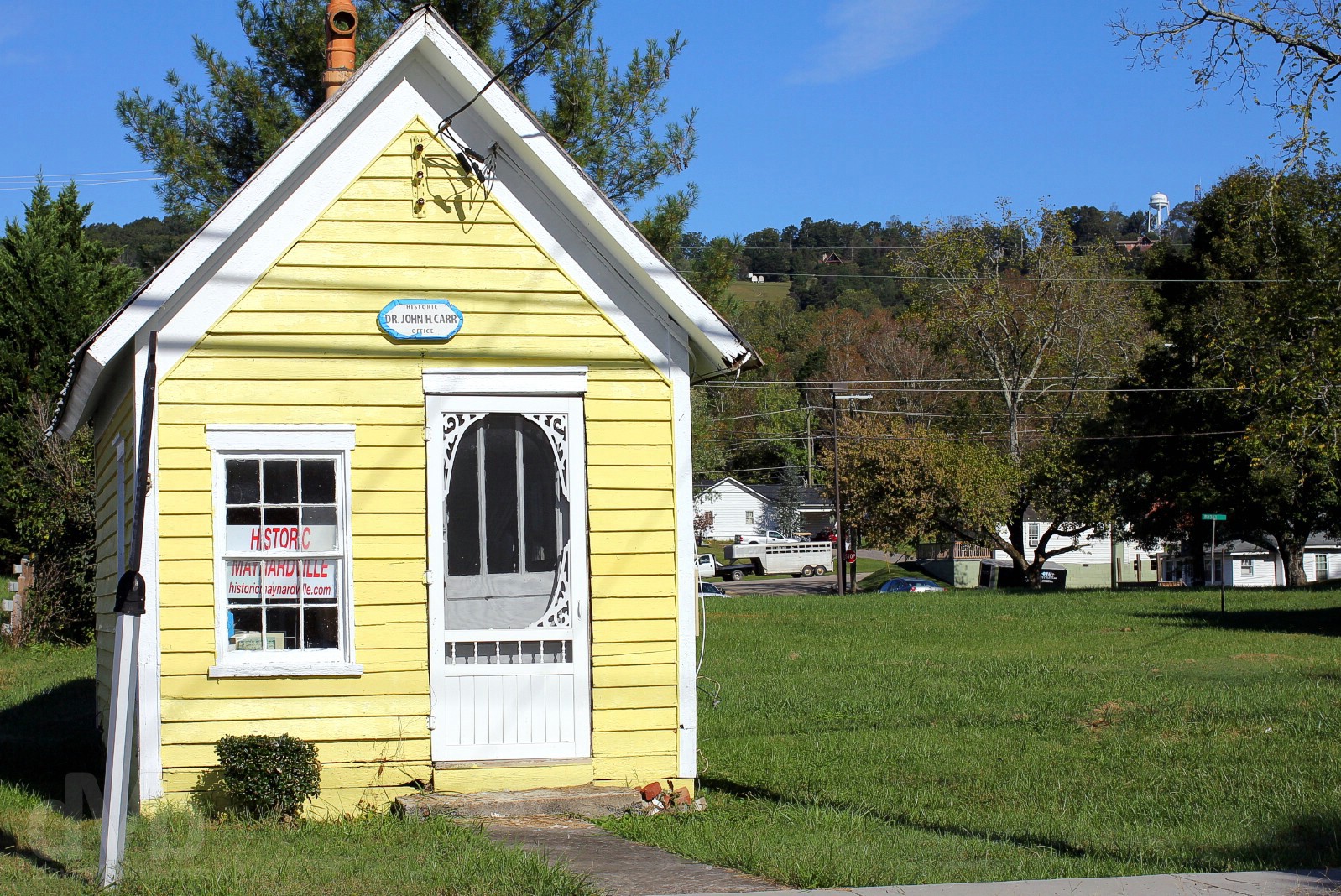 DR CARR OFFICE || The historic Dr. John H. Carr office building in Maynardville, Union County, Tennessee. October 18, 2017.I wish I knew what & who this was all about (insights were not forthcoming), the very small, very yellow and very old (= historic) office of a Dr. John Harvey Carr (1888–1936). Quaintness personified, I believe today it's still in use as a an art gallery cum workshop.
There's little else to see in Maynardville (population some 2,500), apart from the aforementioned plaques & the Dr. Carr building, and they won't detain you very long.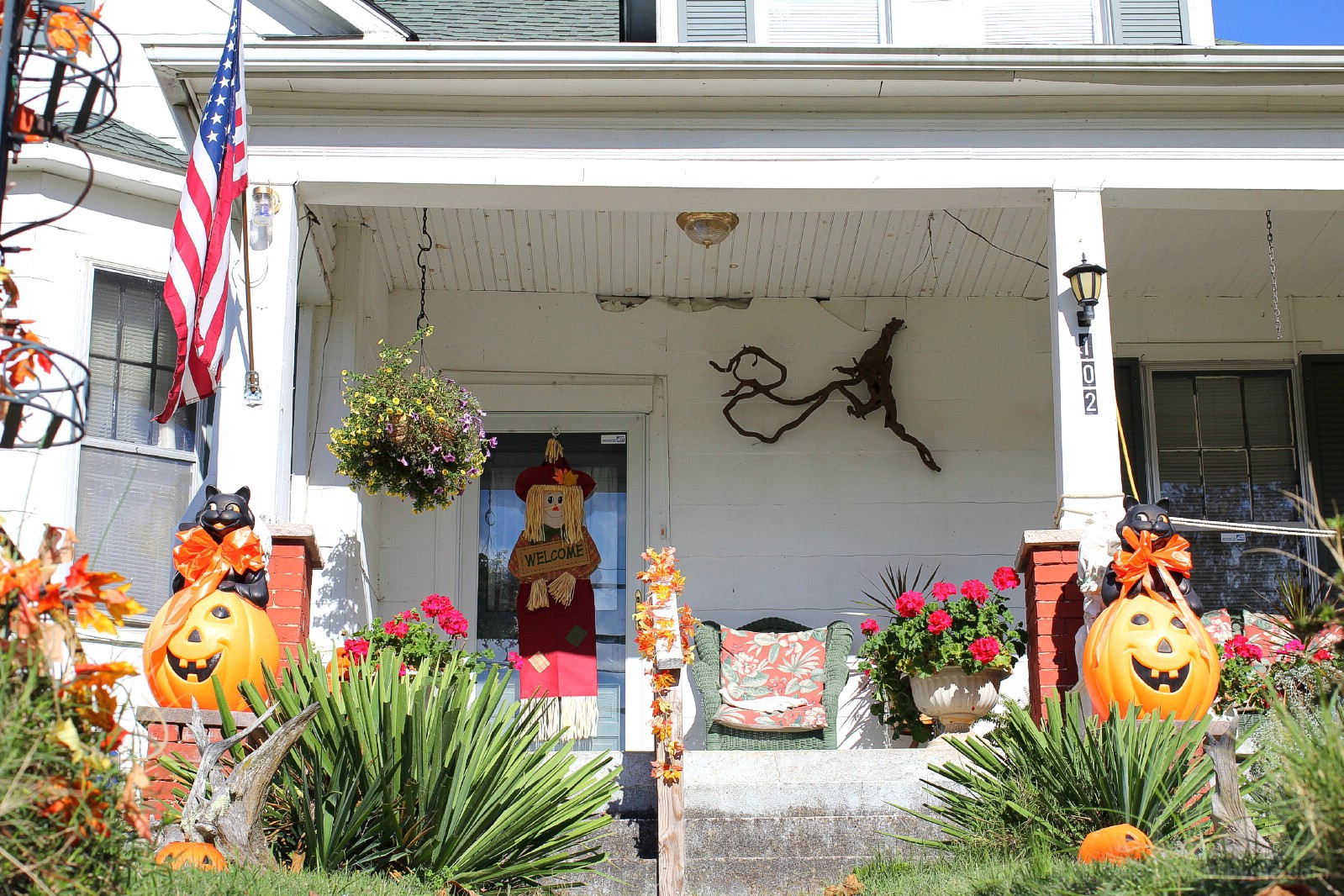 FALL FANATICS || Maynardville, Union County, Tennessee. October 18, 2017.If last year's trip thought me anything it is that the Yanks, especially those in the sticks, love Halloween. And they prepare for it well in advance; we've been looking at pumpkins since landing 3+ weeks ago now.
BE BACK SOON || Maynardville, Union County, Tennessee. October 18, 2017.A mid-morning 'Be Back Soon' (if at all) in sleepy Maynardville.
COUPE DEVILLE || For sale by the side of US 32 outside Maynardville, Union County, Tennessee. October 18, 2017.I loved this. As always in rural USA, today we saw plenty of abandoned, rusting & has-seen-better-days transport options by the side of the road. However, this, an immaculate 1989 Cadillac Coupe deVille with 74,000 miles (119,00 kilometres) on the clock, has obviously seen some TLC of late and is now for sale. I can't imagine it reaches a wide audience sitting by the side of a road in rural northeastern Tennessee.
Sneedville
Tennessee (TN) || Fifty miles from Maynardville & just shy of the Virginia state line, rural gets very rural in Sneedville, population 1,300. One of the poorest towns in the US with a population over 1,000 it may be (so says Wikipedia), but at least it can lay claim to being the hometown of Jimmy Martin, the only reason we found ourselves on the streets of the town receiving dubious stares from the locals; Sneedville is the kind of place where everyone knows everyone else and non-locals stand out.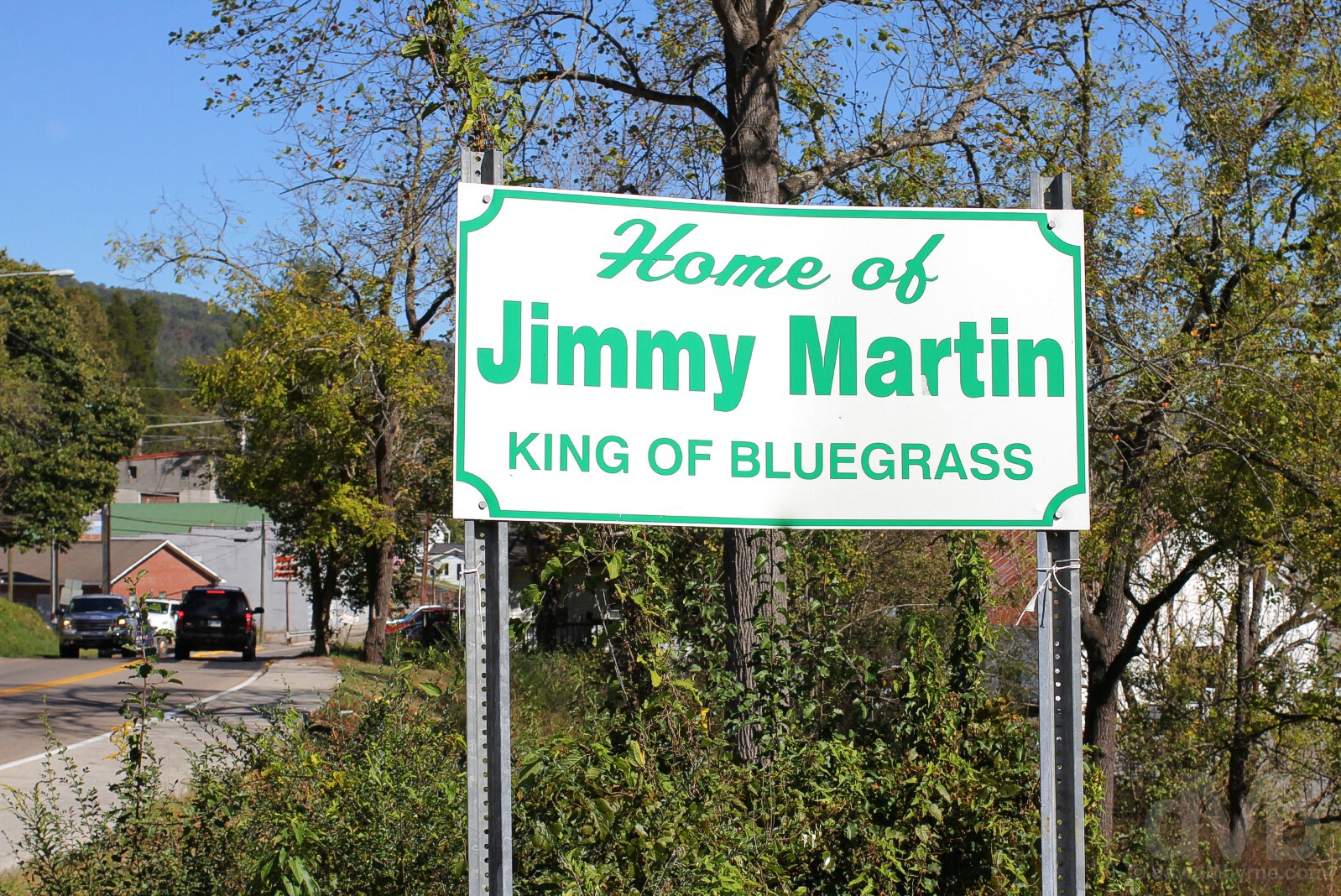 JIMMY MARTIN || Sneedville, Hancock County, Tennessee. October 18, 2017.The only reference we could find to Sneedville's favourite son, Jimmy 'The King Of Bluegrass' Martin (1927-2005), was this sign on the fringe of the town. Instrumental in developing the bluegrass 'high lonesome' sound as a member of Bill Monroe's Bluegrass Boys, Martin was, by all accounts, a volatile, high-strung character both on and off stage, traits which kept him from realising his lifelong dream of becoming a member of the Grand Ole Opry.
A few miles beyond Sneedville and it was finally time to say goodbye to musical Tennessee.
RURAL SIGHTS & ABANDONMENT || By US 33 just beyond the Tennessee/Virginia State Line, Hancock County. October 18, 2017.Show-off Halloween displays fronting whitewashed houses amid impeccable display lawns that contrast starkly with unkempt, detritus-plagued surrounds of tumbledown houses & sagging barns; flags (both the Star & Stripes & the Stars & Bars); mile after mile of rusting roadside farm machinery, cars, trucks & tractors; rolling fields, forests & roller-coaster-esque roads. You see & experience them all in rural USA this time of year. They are all eye-catching, but it's the abundant abode abandonment that's most striking, most photogenic.
We didn't spend long in Virginia this time around, spending just enough time as was needed to get reacquainted with the state's so-called Crooked Road, it's Heritage Musical Trail that we spent a few days driving last year. Although it was brief, it was good to be back among the musical mountains of the Virginia's extreme west & southwestern regions. It's not a particularly large state (the 15th smallest actually) but there's a very different feel to life over here compared to the historied Eastern Seaboard side of the state.
Coeburn
Virginia (VA) || Very few of the sleepy settlements along Virginia's musical Crooked Road, if any, can top Coeburn's All-Star lineup of past & present bluegrass A-listers. The dual brother duo of Jim & Jesse McReynolds & Ralph & Carter Stanley are already bluegrass royalty, something Ralph Stanley II, the present generation of Clinch Mountain musicians, may attain someday. (Danny O'Quinn jr? A professional stock car racer).
National Scenic Byway #5 – The Country Music Highway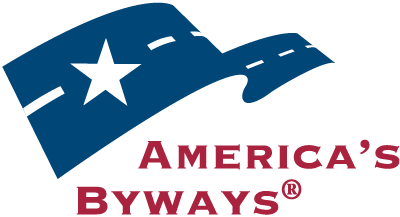 We hit the Country Music Highway last year too in northeastern Kentucky. Today was the return, this time in southwestern Virginia, US 23 accounting for over half the 25-mile drive from Coeburn to the state line with Kentucky. And rather appropriate it was to drive the highway given the day that was in it, and totally coincidental as it tuned out – we didn't realise on either occasion, this year or last, that we were on the road until we saw the roadside signage, necessitating a stop for the obligatory photo op.
The sites and sounds along the byway capture all aspects of the region's history, including Native American culture, pioneer settlement, coal mining, country music, crafts, architecture, the Civil War, and natural resources.
– www.fhwa.dot.gov commenting on the Country Music Highway
Kentucky
State Nickname – The Bluegrass State. State Mottos – United we stand, divided we fall; Deo gratiam habeamus (Let us be grateful to God). Admitted To The Union – June 1792 (15th state). Population – 4.4 million (22nd most populous state). Area – 40,409 sq miles (37th largest state). Capital – Frankfort. National Parks – 1 (Mammoth Cave). National Scenic Byways/All-American Roads – 6/0. Famous For – Horses, horse farms & the Derby; bluegrass (the region, the grass & the music); bourbon; being photogenic; KFC; Abraham Lincoln (born in Hodgenville); Fort Knox; baseball bats; Muhammad Ali (born in Louisville); karst landscapes; caves. State Highlight – Picture-perfect Bluegrass Country, bluegrass (the music), Mammoth Cave National Park & rural drives. Kentucky Titbits – Kentucky boasts the world's longest cave system; it also has more navigable miles of water than any other state not called Alaska; the state produces 95% of the world's supply of bourbon whiskey, and the number of barrels of bourbon being aged in Kentucky (more than 5.7 million) far exceeds the state's population; the name Kentucky means 'meadow lands' in several different Indian languages and was specifically applied to this region of the country, thereafter Europeans adopting the name to apply to the state; Harland Sanders, a Kentucky colonel, launched Kentucky Fried Chicken at his service station in North Corbin, Kentucky, in 1930. Supposedly even back then it was finger-lickin' good!
Jenkins & Burdine
Kentucky (KY) || It's only three miles over the state line from Virginia to the neighbouring settlements of Jenkins & Burdine/East Jenkins. Founded on land purchased for a coal mine operation in late 1910, incorporated in 1912 & named after one of the founding coal company directors, present day Jenkins as we found it was just like Coeburn, Sneedville & Maynardville before it – dead but photogenic. We still found enough to keep us busy for a few minutes as we (unsuccessfully) searched out evidence of the town's most famous former musical resident, master fiddler Kenny Baker.
Hyden
Kentucky (KY) || A 65-mile drive on rural southeastern Kentucky roads got us from Jenkins to Hyden. With a population of less than 500, Hyden was the last, smallest & sleepiest of all the rural northeastern Tennessee, southwestern Virginia & southeastern Kentucky settlements we visited today. There were signs on the outskirts of the town commemorating the Osborne Brothers, Sonny & Bobby, born here in 1937 & 1931 respectively & still going strong on the bluegrass scene today, but nothing in the veritable (ghost)town of Hyden itself.