EPIC US ROAD TRIP 2017
DAYS 15-21- THE SOUTH - FLORIDA, ALABAMA, LOUISIANA, MISSISSIPPI & TENNESSEE
Image || The Lake Pontchartrain Causeway, Louisiana.
Quick Link Regional Highlights
Epic US Road Trip 2017 – The South
After 2 weeks of driving south, a right turn in Jacksonville, Florida on Day 14 saw us turning our back on the pioneering history of the Eastern Seaboard. From there on out the 1,575 miles of ground we covered over the course of a week in travelling first in a westerly & then northerly direction through The South was all about the slow and inexorable return back towards the cooler climes of New England, sill the depth of a rather big country away when pulling out of New Orleans, as deep as we'd go in the Deep South, on the morning of Day 17. Welcome (back) to The South. Florida, Alabama, Louisiana, Mississippi & Tennessee.
MaccWhere?
We were aiming to overnight in Jacksonville, Florida when pulling out of Savannah, Georgia, some 140 miles to the north, on the afternoon of Day 14. Being the largest city by area in the contiguous US meant the lack of room in many a Jacksonville inn on an October Tuesday evening came as something of a frustrating surprise. It also meant we pushed on an extra 30 miles across the Florida panhandle, eventually being halted by somewhere called Macclenny. The only night we'd devote to the Sunshine State, when bedding down in somewhere like Macclenny you really do feel like you're just passing through, which is exactly what we were doing.
dMb US State Digest
Florida
State Nicknames – The Sunshine State. State Motto – In God We Trust. Admitted To The Union – March 3, 1845 (27th state). Population – 21 million Floridians (3rd most populous state). Area – 65,750 sq miles (22nd largest state). Capital – Tallahassee. National Parks – 3 (Biscayne, Dry Tortugas & Everglades). National Scenic Byways/All-American Roads – 5/1. Famous For – Sunshine; speaking Spanish & Latino vibes (almost 25% of the state population is of Hispanic & Latino descent); Micky Mouse & Walt Disney World; diversity; Miami Beach chic; snowbirds & retirees; tourism & all-inclusive theme parks the size of countries (Florida receives well over 100 million visitors a year and the state's lucrative tourism industry employs nearly 1.5 million people); Art Deco architecture; Spring Break parties; wetlands & everglades; once belonging to Spain (Florida became a US territory in 1821); environmental issues; the manatee; citrus fruit, especially oranges; space shuttle launches from the Kennedy Space Center; the month-long recount of the 2000 Presidential election that put George W. Bush in the White House despite losing the popular vote; good times; golf courses; powerboats; being the southernmost state; NASCAR (born in Florida's Daytona Beach in 1947); alligators; lightening; tornadoes; beaches; the Keys & big game fishing. State Highlights – All that fun in the sun; Miami's Art Deco district; offbeat Key West. Florida Titbits – Florida is Spanish for "land of flowers", a name bestowed upon the land by Spanish conquistador Juan Ponce de León when he spotted and landed on the peninsula on April 2, 1513, making Florida the first region of the continental US to be visited and settled by Europeans; mostly surrounded by water, Florida has the longest coastline in the contiguous US (approximately 1,350 miles / 2,170 kilometres); it has the lowest high point of any US state (105-metre-high (345 feet) Britton Hill); it is one of only two states, the other being Hawaii, and thus the only continental US state with a tropical climate; Florida is one of seven states that does not impose a personal income tax; a renowned retiree haven, Florida contains the highest percentage of any state of people over 65 (almost 20%); proving that it's not really a small world after all, Walt Disney World's 4 theme parks, 27 themed resort hotels, 9 non-Disney hotels, 2 water parks, 4 golf courses and other recreational venues are the most visited vacation resort on earth with over 50 million annual visitors; a 2013 Gallup poll indicated that 47% of state residents agreed that Florida was the best state to live in (but they would say that).
If you can't find something to do in Florida, you are just boring…
– Guy Fieri, celebrity chef
EPIC US ROAD TRIP 2017 || Day 15
The Historic Capitol as seen from the New Capitol in Tallahassee, Florida. October 11, 2017.
"It's a nice place, but that doesn't hide the fact that for a tourist there just isn't a whole lot to see in Tallahassee, ironic really given its status as the capital of the tourism behemoth that is Florida."
Day 15 || October 11 2017
Route || Maccleeny, Florida to Mobile, Alabama.
Miles (Kilometres) Driven || 397 (639)
Posted From || Mobile, Alabama
Today's Highlight || The Florida/Alabama state line
Oh yes, we're motoring now alright. 'Twas easily the busiest day of the lot on the road today, Day 15. Almost 400 miles of westerly driving along Interstate 10 across the Florida panhandle saw us getting back to Alabama, state #11 (it was state #18 last year). Having experienced the Civil Rights history synonymous with the state's centre last year, now we find ourselves on the Gulf of Mexico in Mobile, as deep in the Deep South as we've ever been, and we got here from Macclenny via a stop in the Florida capital of Tallahassee. That was interesting. Different, but interesting.
Tallahassee
Florida (FL) || It's a nice place Tallahassee, but that doesn't detract from the fact that for the tourist there just isn't a whole lot to see here, ironic really given its status as the state capital of the tourism behemoth that is Florida. A planned city full of suits, bureaucracy and heat, Tallahassee was chosen as the site for the State capital in 1824, conveniently located equidistant between Augustine and Pensacola, the two largest cities at the time and obvious choices for a capital. Convenient then and convenient now – the city's geographical location meant it was a convenient break for us in the 395-mile drive west from Macclenny towards the state line with Alabama.
I saw this quote in the lobby of the Florida State Capitol today and thought it apt.
Never go on trips with anyone you do not love.
– Ernest Hemingway
dMb US State Digest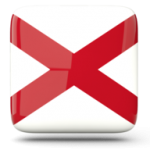 Alabama
State Nicknames – The Yellowhammer State; Heart of Dixie; The Cotton State. State Motto – Audemus Jura Nostra Defendere (We Dare Defend Our Rights). Admitted To The Union – December 1819 (22nd state). Population – 4.8 million Alabamians (24th most populous state). Area – 52,400 sq miles (30th largest state). Capital – Montgomery. National Parks – 0. National Scenic Byways/All-American Roads – 2/2. Famous For – Racial segregation; being the birthplace of the ill-fated Confederate States of America; French influence; cotton; Rosa Parks & the Civil Rights Movement; Harper Lee's 1960 Pulitzer Prize winning literary classic To Kill a Mockingbird. State Highlights – The Selma to Montgomery Voting Rights Trail, a US National Historic Trail; typically Deep South antebellum architecture. Alabama Titbits – The word Alabama means 'tribal town' in the Creek Indian language; the state is hot, sticky & windy – along with Oklahoma, it has the most reported EF5-rated tornadoes, those delivering total destruction of buildings, of any state; the 1901 Alabama Constitution, with almost 800 amendments and running to over 310,000 words, is by some accounts the world's longest constitution and is roughly forty times the length of the US Constitution; Hitler's typewriter, a survivor from his Eagle's Nest mountain retreat, is exhibited at the Hall of History Museum in Bessemer; not a place to be poor, Alabama's income tax on poor working families is among the highest in the US (although it does levy the lowest property taxes in the US); forget Louisiana's New Orleans. Stretching back to 1703, Mobile, Alabama is known for having the oldest organised Carnival, a.k.a. Mardi Gras, celebrations in the US.
We're now in Mobile at the head of the Gulf of Mexico's Mobile Bay, a mere 2 days after departing the eastern seaboard & its Atlantic Ocean. Named after the Mauvilla Indians, it's a new city in a familiar state. I've always wanted to come here, for no other reason other than one of my very favourite YouTube videos emanates from here. Leprechauns in the Deep South? Generally no, but tonight yes.
New Orleans is a 2-hour drive from here. The city is the only reason we're this far south – this wasn't on the original itinerary. That said, we'll be there tomorrow, Epic US Road Trip 2017 Day 16. We're super pumped for that.
EPIC US ROAD TRIP || Day 16
Bourbonfaced on Shit Street. Bourbon Street, French Quarter (Vieux Carré), New Orleans, Louisiana. October 12, 2017.
"A place to let everything go, this is a city where seemingly anything goes, party central with the party firmly centred on the French Quarter's infamous Bourbon Street, a neon-lit party zone that actively embraces getting shitfaced 24/7. Revelers, hopping from one no-cover-minimum-drink-purchase bar or jazz club to another with a bucket beer or luminous fishbowl cocktail in hand, come here to have a good time, and it seems a lot of them do just that."
Day 16 || October 12 2017
Route || Mobile to New Orleans, Louisiana.
Miles (Kilometres) Driven || 167 (269)
Today's Highlight || The French Quarter, New Orleans
As it turns out, Mobile was the Day 16 calm before the storm. Seemingly things can get just as raucous in the southern Alabama port city as they can in nearby New Orleans (OK, maybe not that raucous), but what we experienced of Mobile to start this day was a million miles removed from how we ended it on the infamous party streets of the New Orleans French Quarter (Vieux Carré), so much so that it's hard to believe the two French-influenced Deep South port cities are separated by a mere 150 miles of US Interstate 10.
Mobile
Alabama (AL) || The largest city on the Gulf Coast between New Orleans and Jacksonville, Florida, Mobile, a.k.a. The Port City, is Alabama's only saltwater port, one that has shaped the city right from its very founding by the French in 1702 as the first capital of their La Louisiane (New France) colony; the French needed a base along the Gulf Coast to achieve his grand plan to drive the English out of their Atlantic colonies. Thereafter the port city was a colony of Britain & Spain before American troops captured the city during the War of 1812. Something of a cultural centre with a shady, oak-infused Historic Downtown of wrought iron-heavy mansions, the city is the birthplace of Carnival, a.k.a. Mardi Gras, celebrations in the US.
Funky, feisty, festive. Or historic, hip and happening. Colorful, cool and cultured. You can call this coastal town a lot of things when you have a vibrant 300 year history with lots of stories to tell and long-standing traditions celebrated on a regular basis. Once called the Paris of the South, Mobile has long been the cultural center of the Gulf Coast and you'll find an authentic experience found nowhere else in the southern United States.
Mobile.org
Things are a little different down here to what we experienced of central 'bama last year, understandable give the fact that Mobile is the state's only real coastal town. Unfortunately for Mobile we had bigger crawfish to fry and so didn't see a whole lot of what the city has to offer, finding only as much time as was necessary to stop off in Battleship Memorial Park en route from Mobile's Eastern Shore to New Orleans.
Battleship Memorial Park
Mobile's military park, occupying a large plot of land on the western shore of Mobile Bay, displays a number of notable World War II-era veterans saved from the scrapheap (planes, tanks and whatnot), as well as some more modern warring paraphernalia such as a Lockheed A-12 spy plane. A lot of the equipment was damaged (or destroyed altogether), and the park itself forced to close for 4 months, when Hurricane Katrina infamously blew through the region in late August 2005. No such meteorological menaces to worry about on this particular gorgeous Deep South mid-October day.
Having left Mobile, we needed to cross an 80-mile stretch of southern Mississippi in order to get to the state line with Louisiana (only passing through today, we'll be back in Mississippi proper tomorrow). We (very briefly) forayed across the state line from Vicksburg, Mississippi, further north, into Louisiana on Day 24 of Epic US Road Trip 2016. On that occasion we didn't see a 'Welcome to Louisiana' state line sign, and nor did we make it down to New Orleans. Today we put right both of those oversights.
dMb US State Digest
Louisiana
State Nicknames – Pelican State (official); Bayou State; Sportsman's Paradise; Creole State; The Boot. State Motto – Union, Justice, Confidence. Admitted To The Union – April 30, 1812 (18th state). Population – 4.7 million Louisianians (25th most populous state). Area – 52,380 sq miles (31st largest state). Capital – Baton Rouge. National Parks – 0. National Scenic Byways/All-American Roads – 1/2. Famous For – Jazz; French, Creole & Cajun influences (Louisiana is the only state with a large population of Cajuns, descendants of the Acadians who were driven out of Canada in the 1700s because they wouldn't pledge allegiance to the King of England); Tabasco sauce (originated here); being laid-back; traditional po' boy baguette sandwiches; deltas, coastal marshes & swamps; canals, ditches & levees; Carnival, a.k.a. Mardi Gras; multiculturalism; thunderstorms, tropical cyclones and hurricanes; slavery; the Purchase of 1803 (when the US acquired the then Louisiana territory from France). State Highlight – The Big Easy, a.k.a. New Orleans. Louisiana Titbits – Claimed for France by Robert de La Salle in 1682, Louisiana was named after Louis XIV, King of France from 1643 to 1715 (to this day, Louisiana is the only state that still refers to the Napoleonic Code in its state law); it's the only state in the US with political subdivisions termed parishes (64 in total), equivalent to the counties of the other 49 states; the state has more Native American tribes than any other southern state; somewhat ironic given its multilingual heritage, Louisiana is one of the only states in the US with no official state language; the southern coast wetlands of Louisiana are among the fastest-disappearing areas in the world, mainly due to human mismanagement of the coast; the state is far and away the biggest producer of crayfish (known as crawfish in the US, small warm-water lobsters without claws) in the world, accounting for some 90% of world's supply; rich in petroleum and natural gas, Louisiana was the first site of petroleum drilling over water in the world; The Empire State Building-esque Louisiana State Capitol in Baton Rouge is the tallest state capitol building in the US; as of 2016, Louisiana, with the nickname Sportsman's Paradise, was the birthplace of the most NFL players per capita for the eighth year in a row; in Louisiana, biting someone with your natural teeth is considered a simple assault, but biting someone with your false teeth is considered an aggravated assault.
New Orleans
Louisiana (LA) || The largest city in Louisiana & located near the mouth of the mighty Mississippi River, the home of jazz & Mardi Gras. The city's historic French Quarter (Vieux Carré), where we hung out, is, and while characteristically & infamously gritty, a nice place to wander nonetheless, awash as it is with colonial-era charm – the whole district is a riot of churches, colourful wooden architecture and beautifully preserved foliage-draped wrought iron balconies. And not forgetting, of course, that a beer, a luminous fishbowl cocktail & a devil-may-care joie de vivre party scene is never far away no matter the time of day or night.
New Orleans is one of the world's most fascinating cities – it's home to a truly unique melting pot of culture, food and music. Come down and experience New Orleans, one of America's most culturally and historically-rich destinations.
–NewOrleansOnline.com
New Orleans & The French Quarter (Vieux Carré)
Louisiana's largest city, New Orleans was founded on a crescent of the mighty Mississippi River – hence one of its nicknames as 'The Crescent City' – in 1718 and named after Philippe II, Duke of Orleans, the Prince Regent of France. Today the city of almost 400,000 sprawls on both banks of Old Man River, the waters of which are nearing the end of its 2,320-mile (3,730 kilometre) journey south to the Gulf of Mexico from its source in northern Minnesota. Sprawl it may do but it is The Big Easy's compact 1.7 km² French Quarter (Vieux Carré), the city's heart on the north side of the river, that attracts the vast majority of the hordes. First laid out in 1722, the year New Orleans became the capital of Frances' La Louisiane (New France) colony and from where present-day New Orleans grew, the French Quarter is a US National Historic Landmark District-listed 80 blocks of colonial-era architecture, ironwork galleries, overhanging arched balconies, drooping foliage, dilapidation, graffiti, grunge, parties &, yes of course, misfits.
The oldest part of what is often classed as the 'most unique' city in the US, most of the French Quarter's historical buildings that stand today date from the late 1700s, when the city was under Spanish rule, or from after US annexation following the Louisiana Purchase in 1803. All the earlier French structures were either decimated by fires in 1788 & 1794 or succumbed to the passing of time. All, that is, bar one.
The Crescent City has suffered plagues, wars, imperial regime changes and devastating floods. Yet, it always wakes up with a smile on its face. This may be because its inhabitants step to an easy beat first laid down three centuries ago.
– LouisianaTravel.com
Hardships & Katrina
Plagues, wars and imperial regime changes. And all that before the wrath of Katrina. While there are still, a decade-plus on, many a New Orleans so-called Dead Zone, the French Quarter (Vieux Carré) suffered little flood damage relative to the rest of the city as a result of Hurricane Katrina doing her damndest to wreck havoc on the city on August 29, 2005 – the district is some distance from the breached levees and sea walls that failed so spectacularly to protect the surrounding city, 80% of which was submerged by the time Katrina, the second costliest natural disaster in the history of the US, had blown through. The 'Katrina Tattoo', the line on buildings that marked the heights of the 2005 floodwaters, isn't to be found in the French Quarter, but there are other, many other, blights on the landscape. It all adds to the gritty uniqueness I guess.
A loving city dedicates this park to the memory of Louis 'Satchmo' Armstrong, a Jazz musician who brought the charm of New Orleans to the world. Now, this unique urban garden carries on the spirit of a great American and offers a place for leisure and entertainment for the citizens of New Orleans and the world – the people 'Satchmo' loved so well.
– On display in Congo Square, Louis Armstrong Park, New Orleans.
Grungy & gritty New Orleans has always been a beacon for the misfits of America, a mix of confused destitute types and societal non-conformists. Suffice it to say there's no shortage of characters on the streets of the French Quarter, a people watching location par excellence.
Speaking of misfits. Cue Bourbon Street.
New Orleans is a drinking city and no mistake. A place to let everything go, this is a city where seemingly anything goes, party central with the party firmly centred on the French Quarter's infamous Bourbon Street, a neon-lit party zone that actively embraces getting shitfaced 24/7. Revelers, hopping from one no-cover-minimum-drink-purchase bar or jazz club to another with a bucket beer or luminous fishbowl cocktail in hand, come here to have a good time, and it seems a lot of them do just that.
Everyone knows what Bourbon Street is like. It's loutish in the extreme, a 24/7 bachelor/stag & bachelorette/hen party booze-fuelled good-time zone. It's loud, it's brash, it's bright & it can get blurry in a hurry, an experience perfectly summed up on a t-shirt I saw for sale in the French Market that read 'I meant to behave, but there were too many other options.' Bourbon Street. You either roll with it, steer clear altogether (Bourbon Street is possibly an unavoidable consequence of a visit to New Orleans so this, I fear, is easier said than done), or hit a happy medium – take a stroll along its length at least once to appreciate what you're not missing. Even those who want to entice all to visit the city hint at the alternatives to New Orleans' most infamous street.
Most people can easily recognize one of Louisiana and New Orleans' most famous streets — Bourbon. However there are many more iconic streets, historic downtowns and lovely off-the-beaten-path streets around Louisiana that will offer a glimpse into the true nature of a town.
– LouisianaTravel.com
A few more captures from a few eye-opening rambles up and down Bourbon Street.
The highlight of the visit to New Orleans for me was the architecture, the more colourful & tumbledown the better. Here are a few parting shots from the city of eye-catching edifices seen during explorations of some of the quieter streets of the French Quarter & its immediate vicinity.