EPIC US ROAD TRIP 2016
DAYS 4-6 - THE DAKOTAS - NORTH & SOUTH DAKOTA
Image || Crazy Horse Memorial, Black Hills, South Dakota.
Epic US Road Trip 2016 – The Dakotas
The Dakotas. North & South. Two states, threes days, over 1,000 miles.
NORTH DAKOTA – Straight, long & Legendary drives through nothing of note & to sights in need of an asterisk – is the out-of-the-way obelisk of dubious credibility in Rugby really 'THE CENTER OF IT ALL!' & did we really visit Sitting Bull's grave in Fort Yates? Being asked if we were 'lost' & told to 'slow down' while leaving Bismarck.
SOUTH DAKOTA – Good times in the Badlands, the first national park of the road trip. Real life historic Deadwood, a slimmed-down Western Sin City. The Great Faces of Mount Rushmore National Memorial & the overambitious Crazy Horse Memorial in Great Places, the Black Hills, a stunning pine-clad anomaly rising from the otherwise flat plains.
The Dakotas. Two states, three days, lots of driving, & whole lot of fun.
The Dakotas is a collective term for the U.S. states of North Dakota and South Dakota. It has been used historically to describe the Dakota Territory, and is still used for the collective heritage, culture, geography, fauna, sociology, the economy, and even cuisine among the two states.
– Wikipedia
PICTURE OF THE DAY || DAY 4 || August 31, 2016
Image || North Dakota bound on the US-2 in northwestern Minnesota.
"Move along. There's nothing to see here. I guess US-2 may give you a more intimate view of nothing, but nothing is still nothing. Agriculture & grain fields, big rigs, looooong stretches of road and far-off horizons."
Day 4 || August 31 2016
Route || Bemidji, Minnesota to Bismarck, North Dakota (via Grand Forks, Lakota, & Rugby, North Dakota)
Miles (Kilometres) Driven || 458 (737)
Posted From || Bismarck, North Dakota
Today's Highlight || Nothingness.
Before getting to the Dakotas, specifically North Dakota, we had of course to say goodbye to Minnesota. It was the perfect time to get the 'Welcome to Minnesota' picture. We hope to eventually become good enough at this to enable us to capture these pictures when actually entering a state.
North Dakota
State Nicknames – Peace Garden State; Roughrider State; Flickertail State. State Mottos – Liberty and Union; Now and Forever; One and Inseparable. Admitted To The Union – November 1889 (39th state). Population – 757,000 (4th least populous state). Area – 70,700 sq miles (19th largest state). Capital – Bismarck. National Parks – 1 (Theodore Roosevelt). National Scenic Byways/All-American Roads – 2/0. Famous For – The 1996 Oscar-winning Coen Brothers movie Fargo (which was actually set & filmed in neighbouring Minnesota); the location for the geographical centre of North America; big statues; nothingness & having no must-see attractions. State Highlights – That nothingness again. North Dakota Titbits – North Dakotans are a holy lot – the state has the most churches per capita & the highest percentage of church-going population of any US state; the state has a great number of Native Americans – the word "Dakota" is a corruption of a Sioux (Lakota) word meaning "allies" or "friends". North Dakota is one of the least-visited states in the country. Yep, not too many people come up here to look at nothing.
This is a place to get lost on remote two-lane routes and to appreciate the magnificence of raw land.
Lonely Planet
Lonely Planet recommends that if, like us, you're embarking on a jaunt across North Dakota, something not a lot of people do, that you do so via the more northerly US-2, their reasoning being that it is a more 'atmospheric' choice than the arrow-straight Interstate 94, the state's main east-to-west/west-to-east artery further south. We drove the US-2 today and if it's indeed more atmospheric than the I-49 then, and for the very first time in my life, I feel the need to sympathise with a road.
Start your journey to legendary. Welcome to North Dakota, where legends are born. We invite you to channel your inner explorer and experience all there is to see and do in our great state.
– NDTourism.com
Rugby. The Heart Of It All?
OK, so North Dakota isn't blessed with attractions but it does boast a national park (Theodore Roosevelt National Park), not to mention the world's largest bison, turtle & Holstein statues. We didn't see any of those today meaning they don't grace the 320 miles of US-2 and I-83 that we took to get from the Minnesota-North Dakota state line to Bismarck, the state capital with a population of 63,000. But we did see the obelisk marking the geographical centre of North America in the town of Rugby. Truth be told, it's the reason we found ourselves in this sparsely populated part of the country. Yes, in a state short on attractions we went out of our way, and to within 45 miles of the Canadian border (a bit too close for comfort), to ogle over an obelisk of dubious credibility.
South Dakota Bound
We'll be arriving in South Dakota tomorrow. Historic Deadwood, the first national park of the trip (Badlands National Park), my birthday, and a rendezvous with a good friend, all on the one day, epic road trip day 5.
PICTURE OF THE DAY || DAY 5 || September 1, 2016
Image || Driving the Badlands Loop in Badlands National Park, South Dakota.
"… we took our time driving the 30-mile stretch of the park's Highway 240, a.k.a. the Badlands Loop Road, skirting the so-called Badlands Wall. We spent our time driving through & around deep canyons, towering spires, precarious pinnacles, and flat-topped tables of the famous Badland buttes, stopping at many of the route's nearly 30 scenic overlooks as we went."
Day 5 || September 1 2016
Route || Bismarck, North Dakota to Deadwood, South Dakota (via Fort Yates, North Dakota & Badlands National Park, South Dakota)
Miles (Kilometres) Driven || 459 (739)
Posted From || Deadwood, South Dakota
Today's Highlight || Arriving in Historic Deadwood.
"Slow down, they might not be so lenient next time." So warned the North Dakota State Highway Patrol officer when handing me back my licence & sending us on our way. Eighty-two miles per hour he said he clocked me at heading south on US-6 outside Bismarck, North Dakota, earlier this morning. The speed limit, he reminded me, was 60 mph. Whoops. He was a nice guy, him & his partner warming to us once they determined that we were bona fide out-of-towners who were most definitely not carrying any firearms; the former was obvious, the latter needed to be ascertained. They even joked with us that we must have been 'lost' to find ourselves in this part of the country, in North Dakota. Ha. Good one, point taken and laugh shared. But no, we were not lost. We were just in a hurry, needing to cover a lot of ground on on this day, road trip day 5.
Fort Yates
Another location not on the original itinerary, we detoured off US-6 to the Native Indian town of Fort Yates. The present-day tribal headquarters of the Standing Rock Sioux Tribe, it's also, on an unkempt finger of land overlooking the mighty Missouri River, the first burial site for one of Native America's most revered figures, Tatanka Iyotake, a.k.a. Sitting Bull.
What treaty have the Lakota made with the white man that we have broken? Not one. What treaty have the white man ever made with us that they ever kept? Not one. When I was a boy the Lakota owned the world; the sun rose and set on their land; they sent ten thousand men to battle. Where are the warriors today? Who slew them? Where are our lands? Who owns them? What law have I broken? Is it wrong for me to love my own? Is it wicked for me because my skin is red? Because I am Lakota; because I was born where my father lived; because I would die for my people and my country?
– Inscription at the base of the Tatanka Iyotake, a.k.a. Sitting Bull, Memorial in Forth Yates, North Dakota
Crossing The Line
Continuing south, next up was the North Dakota-South Dakota state line.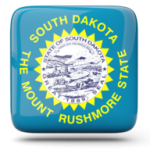 South Dakota
State Nickname – The Mount Rushmore State. State Motto – Under God, the People Rule. Admitted To The Union – November 1889 (40th state). Population – 860,000 (5th least populous state). Area – 77,100 sq miles (17th largest state). Capital – Pierre. National Parks – 2 (Badlands & Wind Cave). National Scenic Byways/All-American Roads – 2/0. Famous For – Gold Rush fever; Native American history; HBO's loosely historical series Deadwood. State Highlights – The scenery, pioneering gold rush towns & monumental iconic sculptures (Mount Rushmore & Crazy Horse Memorial) of the Black Hills. South Dakota Titbits – The Dakotas are named after the Lakota and Dakota Sioux Native American tribes who comprise a significant portion of the population and historically dominated the entire territory; the state is one of only two of the 48 contiguous states without a passenger rail service; has the lowest per capita total state tax rate in the US; it has the highest number of schools per capita in the country.
Great Faces. Great Places. The Beginning.
It was mid-afternoon when we arrived at the outskirts of
Badlands National Park
, the first National Park of the road trip. Located in southwestern corner of the largely flat & mundane state, the
Badlands
& the nearby pine-covered
Black Hills
, the latter clearly visible 70 miles to the west when approaching the Badlands, offer up a welcome reprieve from the endless rolling prairies, two geographical anomalies that are the undisputed highlights of any trip to South Dakota. 'Great Faces. Great Places' is the South Dakota state slogan and it was the Badlands that were to be the first of the great places we were to visit.
Peaks and valleys of delicately banded colors – colors that shift in the sunshine,… and a thousand tints that colour charts do not show. In the early morning and evening, when shadows are cast upon the infinite peaks or on a bright moonlit night when the whole region seems part of another world, the Badlands will be an experience not easily forgotten.
– Freeman Tilden (1883-1980), Conservation Writer, commenting on South Dakota's Badlands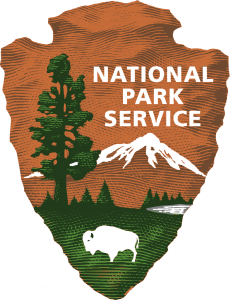 Badlands National Park
Size: 242,756 acres/982 km². Founded: 1935, as a National Monument. 1978, as a National Park. Annual Visitors: 990,000.
Badlands are good for movies, and the land here is sheer drama. This park provided the asteroid surface for "Armageddon," and scenes from "Dances With Wolves" were filmed here.
Visitors aim their own cameras at the same austere beauty, which includes buttes (isolated steep hills), canyons, pinnacles, spires and prairie. "The Badlands are cut from deep alluvial and volcanic ash deposits that have been sculptured and carved into fantastic forms by the continuous action of wind and water," the editors of Consumer Guide explain at adventure.howstuffworks.com. That sculpting began 80 million years ago.
The resulting view — 75 miles east of Rapid City Regional Airport and 90 minutes from Mount Rushmore — can be seen via hiking, backpacking, camping or driving the Badlands Loop.
What I saw gave me an indescribable sense of mysterious elsewhere.
– Architect Frank Lloyd Wright, in a 1935 letter to the editor of the Evening Huronite
Animal inhabitants roaming the landscape include bison, bobcats, badgers and butterflies. Of the estimated 14,500 butterfly species in the world, the Park Service says 69 have been documented in Badlands, where wildflowers support them. The butterflies include the distinctive two-tailed swallowtail, whose wingspan reaches five inches.
The park's Stronghold District, also known as the South Unit, is composed of lands on the Pine Ridge Indian Reservation owned by the Oglala Sioux Tribe. The 133,300 acres of the Stronghold District were added to Badlands National Monument in 1976, before the monument became a park in 1978. The land is full of history. And that story is memorialized, in part, at the nearby site of the massacre at Wounded Knee.
From The Washington Post – The Essential guide to all 59 U.S. national parks.
Good Times In The (Eroding) Badlands
Native American Lakota were the first to call it
mako sica
, meaning 'bad lands',
a region of unique rugged beauty
that has been drawing visitors from around the world for well over a century. It drew us, too, and we took our time driving the 30-mile stretch of the park's Highway 240, a.k.a. the
Badlands Loop Road
, skirting the so-called
Badlands Wall
. We spent our time driving through & around deep canyons, towering spires, precarious pinnacles, and flat-topped tables of the famous Badland buttes, stopping at many of the route's nearly 30 scenic overlooks as we went.
Welcome to fucking Deadwood!
– Al Swearengen, HBO's Deadwood, Season 2, Episode 1 "A lie agreed upon"
Deadwood
A long day on the road ended when we rolled into Deadwood. I was like a kid in a candy store. It was the perfect birthday present. A town steeped in history & lore, in the 1870s Deadwood Gulch was the site of the last big frontier gold rush in North America. Fuelled by gold and greed, Deadwood, named after the dead trees found in its gulch, began in 1876 as a lawless mining camp on demarked sacred Sioux Indian territory, one full of rough-and-tumble get-rich prospectors and an anything-goes Main Street business district that comprised largely of saloons, dance halls, card parlors and bodacious bordellos. This was the wild Wild West.
The race for gold raised a mountain town to its feet for a colorful traipse through history. Grit, determination, and legendary characters, entrenched this landmark city in the lore of the American West.
– TravelSouthDakota.com
HBO's Deadwood
The loosely historical series Deadwood, which charts the settlement's growth from illegal camp to bona fide town & incorporates themes ranging from the formation of communities to western capitalism, first aired on the American premium cable network HBO in March 2004 (I discovered it in 2011 & have rewatched it many times since). Over the course of 3 all-too-brief seasons, the show earned widespread acclaim. Regarded by many, me included, as the best TV show ever committed to film, it featured intricate plots, complex characters, and a labyrinthine, Shakespearean sense of dialogue that hadn't been seen on TV before or since. Some decried the show's language & liberal use of profanity – the 'f' word is uttered 43 times in the first hour of the very first episode and someone calculated that throughout the 36-episode run it is uttered on average of 1.56 times per minute of footage. Others, again me included, found the language beautiful, funny, profound and profane, adding to the lore of present-day Deadwood and to the desire to see it for myself; Deadwood was top of the list of locations to visit when planning this road trip and so arriving here this evening was something all-too special.
Hickok's half-women friend's off somewhere on a tear. The orphan square head's in the widow's care. The widow feels put upon. She's asked me to find her some help. I suggested the gimp.
– E.B. Farnum, HBO's Deadwood, season 1
Pain or damage don't end the world. Or despair or fucking beatings. The world ends when you're dead. Until then, you got more punishment in store. Stand it like a man… and give some back.
– Al Swearengen, HBO's Deadwood
PICTURE OF THE DAY || DAY 6 || September 2, 2016
Image || Mount Rushmore National Memorial, Black Hills, South Dakota.
"… the stony-faced foursome really is quite the sight, even if it is unfinished – the original design, scaled down due to lack of funding as a result of World War II, called for each president to be depicted from head to waist…"
Day 6 || September 2 2016
Route || The Black Hills – Mount Rushmore National Memorial, the Crazy Horse Memorial, & the Peter Norbeck National Scenic Byway
Miles (Kilometres) Driven || 167 (269)
Posted From || Deadwood, South Dakota
Today's Highlight || The Needles Highway of the Black Hills Custer State Park.
It was a slow start to proceedings today, a late night last night necessitating a welcomed change of pace from previous days. We eventually got back to the itinerary, hitting US 385 south from Deadwood for an exploration of the historical carved monuments, dramatic peaks, valleys, meadows & dark stands of conifers that is South Dakota's Black Hills.
The Black Hills – Treaties, Gold, Custer, Rushmore, Crazy Horse & Scenic Drives
The 13,000 km² Black Hills, so-called because of their dark, tree-covered appearance from a distance, are a small isolated mountain range rising from the plains of southwestern South Dakota and extending over the state line into Wyoming. This 'Island in The Plains' had always been Native Indian land ('Black Hills' is a translation of the Lakota Pahá Sápa) and considered sacred. However, it wasn't until the 1868 Fort Laramie Treaty between the U.S. Government and the Lakota that this region of South Dakota was officially demarked Indian territory, and for eternity no less. Happy days, you'd think. The discovery of "gold in them thar hills" shortly thereafter changed things a tad – the treaty was to prove to be just the latest in a string of treaties broken by the white man when, in 1874, one Lt Col George Armstrong Custer led a gold-finding expedition encroaching on Indian territory. Custer's announcement of gold triggered the Black Hills Gold Rush and while this was to mean riches for white settlers it equated to a fight for sacred lands for the Lakota. Miners & prospectors flooded in establishing illegal & lawless towns in the process, the most famous of which was Deadwood (founded 1876).
We did not ask you white men to come here. The Great Spirit gave us this country as a home. You had yours… We did not interfere with you. We do not want your civilization.
– Ta Sunke Witko (Crazy Horse)
Needless to say, with encroachment the Indians naturally got the hump & retaliated. Ultimately this was bad news for Custer as he was to famously meet his maker over the border in Montana at the hands of the Lakota leader Crazy Horse et al at the 1876 Battle of Little Bighorn, a.k.a. Custer's Last Stand, the largest of the USA vs. Native American Indian Wars and the last major victory of the Plains Indians' over the white invaders. The outcry from the Little Bighorn defeat saw Congress cutting off all rations to the Indians until they terminated hostilities and ceded the Black Hills back to the US; it was termed the "sell or starve" proviso by the Indians. Threatened with starvation the Indians had no choice but to comply, an 1877 amendment to the Indian Appropriations Act officially taking away Indian lands, including the Black Hills, and permanently established Indian reservations. The Indians never accepted the legitimacy of the transaction, never accepted monies awarded to them as compensation resulting from a 1980 Supreme Court ruling that the US had taken back the Black Hills without just compensation, and they continue to this day to insist on their right to occupy the land.
Today the Black Hills encompass the dramatic Black Hills National Forest and are a major tourist draw being home to, among others, South Dakota's first & largest state park (Custer State Park), one of North America's most scenic drives (the Peter Norbeck National Scenic Byway), and, of course, two historical & unfinished monuments carved right into towering Black Hills granite – Mount Rushmore National Memorial, the iconic depiction of 4 revered US presidents, and the Crazy Horse Memorial, a long-in-progress tribute to the aforementioned storied Native American tribal leader.
Mount Rushmore National Memorial
America's so-called Shrine to Democracy, the iconic
Mount Rushmore National Memorial
, which attracts some 3 million visitors a year, is up there with the Statue of Liberty when it comes to instantly recgonisable American landmarks.
Let us place there, carved high, as close to heaven as we can, the words of our leaders, their faces, to show posterity what manner of men they were. Then breathe a prayer that these records will endure until the wind and rain alone shall wear them away.
– Gutzon Borglum, Mount Rushmore Sculptor, 1930
The Crazy Crazy Horse Memorial
Only a 20-minute drive from Mount Rushmore National Memorial is yet another unfinished Black Hills carving undertaking, this one so monumental in scale as to almost relegate Mount Rushmore to something of an afterthought. The
Crazy Horse Memorial
, one of the world's most overly ambitious examples of one-upmanship.
My fellow chiefs and I would like the white man to know the red man has great heroes, too.
– Chief Henry Standing Bear in his 1939 invitation to sculptor Korczak Ziolkowski to carve the Crazy Horse Memorial
– Ian Frazier, Author, commenting on the Crazy Horse Memorial
Beyond the Crazy Horse Memorial, and just outside the town of Custer, it was time to drive the first National Scenic Byway of the wider road trip. And what an end-of-day treat that was.
National Scenic Byways & All-American Roads

While each state can and does designate its own Scenic Byways, a National Scenic Byway is a road recognized by the US Department of Transportation for one or more of six 'intrinsic qualities', they being archaeological, cultural, historic, natural, recreational, and scenic. The program was established by Congress in 1991 to preserve and protect the nation's scenic but often less-travelled roads and to promote tourism and economic development. The National Scenic Byways Program (NSBP) is administered by the Federal Highway Administration (FHWA).
The most scenic byways are designated All-American Roads. These roads must meet two out of the six intrinsic qualities. An All-American designation means these roads have features that do not exist elsewhere in the US and are unique and important enough to be tourist destinations unto themselves.
As of November 2010 there are 120 National Scenic Byways and 31 All-American Roads located in 46 states (all except Hawaii, Nebraska, Rhode Island and Texas).
National Scenic Byway #1 – Peter Norbeck National Scenic Byway
Named after local Governor, state & US Senator, & general natural resource conservationist Peter Norbeck (1870-1936), the
Peter Norbeck National Scenic Byway
is an 68-mile (110-kilometre) marrying of 4 different roads that link some unmissable Black Hills highlights including Mount Rushmore, Custer State Park and the Needles & Iron Mountain Highways.
This byway will lead you on a delightful adventure as it winds its way around spiralling "pig-tail" shaped bridges, through six rock tunnels, among towering granite pinnacles and over pristine, pine-clad mountains.
– U.S. Department of Transportation Federal Highway Administration
The Needles Highway
Curving between towering granite cliffs and ponderosa forests via hairpin turns & narrow tunnels, the 14-mile Needles Highway through the Harvey Range of Custer State Park was, when mapped out in 1919, billed as impossible to build via the conventional engineering means of the day. Two years and 150,000 pounds of dynamite later & the result was a winding road around, and sometimes through, a maze of upright sentinels of stone, some of the oldest rocks in North America, sheer granite formations reminiscent of organ pipes, spires and, yes, needles.
With so much scenery to absorb, don't be surprised if you find yourself driving 20 miles per hour.
– DangerousRoads.org commenting on the Needles Highway
The Iron Mountain Highway
More dynamite was required for the Iron Mountain Highway of the Black Elk Wilderness region of the Black Hills, a road that manages to squeeze 314 curves & 14 switchbacks into its 17 mile run. A unique feature of this road, another one they said 'couldn't be built', is a series of corkscrew spirals, a.k.a. the Pigtail Bridges, which see the road double back on itself allowing a rapid climb/descend to/from the route's 1,660 metre (5,445 feet) summit. However, as impressive as that is to see (& drive), it's the three one-lane tunnels encountered en route that are probably the lingering feature of the road, two of which, on the north side of Iron Mountain, were designed to frame the faces of the emerging Mount Rushmore National Memorial in the distance.
This infamous road is tightly hairpinned and bumped, an exquisite winding mountain drive with sharp and blind curves and hairpin switchbacks leading the traveler over the mountains.
– DangerousRoads.org commenting on the Iron Mountain Highway
THE UPPER MIDWEST || Wisconsin & Minnesota
DAY 01 139 miles || Chicago's O'Hare Airport to Madison, Wisconsin
DAY 02 302 miles || Madison to Saint Paul, Minnesota (via Pewit's Nest State Natural Area & Prescott, Wisconsin)
DAY 03 259 miles || Saint Paul to Bemidji, Minnesota (via St Cloud, Brainard & Walker, Minnesota)
THE DAKOTAS || North & South Dakota
DAY 04 458 miles || Bemidji to Bismarck, North Dakota (via Grand Forks, Lakota & Rugby, North Dakota)
DAY 05 459 miles || Bismarck to Deadwood, South Dakota (via Fort Yates, North Dakota & Badlands National Park, South Dakota)
DAY 06 167 miles || Deadwood & The Black Hills (Mount Rushmore National Memorial & Crazy Horse Memorial)
THE NORTHERN ROCKIES || Wyoming, Montana, Idaho, & Northern Utah
DAY 07 354 miles || Deadwood to Billings, Montana (via Devil's Tower & Little Bighorn Battlefield National Monuments)
DAY 08 262 miles || Billings to West Yellowstone, Montana (via the Beartooth Highway & Yellowstone National Park)
DAY 09 227 miles || West Yellowstone to Jackson, Wyoming (via Yellowstone National Park & Grand Teton National Park)
DAY 10 280 miles || Jackson to Salt Lake City, Utah (via Alpine, Wyoming; & Montpelier, Paris, & Bear Lake, Idaho)
THE SOUTHWEST || Southern Utah, Arizona & New Mexico
DAY 11 330 miles || Salt Lake City to Panguitch, Utah (via Brian Head & Cedar Breaks National Monument)
DAY 12 273 miles || Panguitch to Page, Arizona (via Bryce Canyon National Park, & Zion National Park)
DAY 13 307 miles || Page (Horseshoe Bend) & Grand Canyon National Park (North Rim)
DAY 14 175 miles || Page to Kayenta, Arizona (via Upper Antelope Canyon, Arizona & Monument Valley, Utah)
DAY 15 252 miles || Kayenta to Durango, Colorado (via Monument Valley, Utah, the Four Corners Monument, & New Mexico)
THE ROCKIES || Colorado
DAY 16 348 miles || Durango to Leadville, Colorado (via Wolf Creek Pass & Monarch Pass)
DAY 17 299 miles || Leadville to Estes Park, Colorado (via Independence Pass, Aspen, Berthoud Pass, & Rocky Mountain National Park)
THE GREAT PLAINS || Wyoming, Nebraska, Iowa, Missouri & Arkansas
DAY 18 307 miles || Estes Park to Cheyenne, Wyoming (via Laramie, Como Bluff, Medicine Bow, & Buford, Wyoming)
DAY 19 404 miles || Cheyenne to Burwell, Nebraska (via Scotts Bluff National Monument & Carhenge, Nebraska)
DAY 20 407 miles || Burwell to Kansas City, Missouri (via Spalding, Nebraska; SW Iowa; & Omaha, Nebraska)
DAY 21 286 miles || Kansas City to St Louis, Missouri
DAY 22 322 miles || St Louis to Memphis, Tennessee (via Dyess, Arkansas)
THE SOUTH || Tennessee, Mississippi, Alabama & Georgia
DAY 23 308 miles || Memphis to Vicksburg, Mississippi (via Clarksdale, Yazoo City & Bentonia, Mississippi)
DAY 24 336 miles || Vicksburg to Prattville, Alabama (via Selma, Alabama)
DAY 25 297 miles || Prattville to Cornelia, Georgia (via Montgomery, Alabama & Stone Mountain, Georgia)
THE APPALACHIANS || Georgia, North Carolina, Virginia & West Virginia
DAY 26 261 miles || Cornelia to Asheville, North Carolina (via Helen & Brasstown Bald, Georgia & Great Smoky Mountains National Park, North Carolina)
DAY 27 200 miles || Asheville to Galax, Virginia (via the Blue Ridge Parkway)
DAY 28 004 miles || Galax, Virginia
DAY 29 354 miles || Galax to Lewisburg, West Virginia (via the Blue Ridge Parkway & Shenandoah National Park)
KENTUCKY & THE GREAT LAKES || Ohio, Kentucky, Indiana & Illinois
DAY 30 404 miles || Lewisburg to Lexington, Kentucky (via Chesapeake, Ohio; Cordell, Kentucky; & Sandy Hook, Kentucky)
DAY 31 241 miles || Lexington to Beaver Dam, Kentucky (via Lincoln Homestead State Park & Mammoth Cave National Park)
DAY 32 190 miles || Beaver Dam to Bloomington, Indiana (via Rosine & Owensboro, Kentucky)
DAY 33 282 miles || Bloomington to Chicago, Illinois (via Indianapolis, Indiana)
DAYS 34-36 017 miles || Chicago, Illinois