Beijing, China (2017)
"It's Beijing… It's people getting in my way, always in my fuckin' way, as is their want; it's their country, after all, and I'm the impostor. It's barriers and mass crowd control. It's a very visible police presence and people in officialdom… seemingly standing around doing absolutely nothing while actually policing subjugation and overseeing mass societal conformity."
Image || Squirming scorpions in Wangfujing, Beijing. August 12, 2017.
Beijing, China (2017)
It's Beijing. It's heat & sweating (in summer). It's life coming at you from everywhere & having no personal space. It's queuing. It's people asking "where are you from?" when they really don't care one iota and are only interested in selling you stuff. It's city workers in orange jumpsuits sweeping the streets with a rudimentary witch's broom and moving piles of dirt from one side of the road to the other. It's meandering the atmospheric but fast disappearing Hutongs, the old residential lanes. It's being treated with indifference when dealing with the surly Chinese (although it's good to know I'm still adept at getting a little wry smile out of them). It's rancid-smelling public (squat) toilets. It's that haze that blankets everything and makes one reluctant to take their camera out of their bag (because you just don't want to capture that shit, or breathe it in).
It's an exercise in patience requiring a level of forbearance I've long since been unable to summon for this city. It's the incessant noise of crowds, car horns, buses, bicycle bells, moped beeps as they weave through the crowds, hawkers and the grating language yelled at unnecessarily high pitches from close proximity. It's people getting in my way, always in my fuckin' way, as is their want; it's their country, after all, and I'm the impostor. It's barriers and mass crowd control. It's a very visible police presence and people in officialdom, all of whom look like they need to grow into their one-size-fits-all uniform, seemingly standing around doing absolutely nothing while actually policing subjugation & overseeing mass societal conformity. It's endless security checks and metal detectors (at this stage I'll never understand why China is so paranoid). It's the infuriating 'This site can't be reached' message in a browser (life is different when you can't 'Google' things). It's being grateful you don't live here (or in China in general). It's 1 hour closer to home (than Seoul, South Korea, is).
It's 640ml bottles of beer for less than a euro. It's one big open-air restaurant, food, real Chinese food, never far away. It's one roast duck restaurant after another, each and every one claiming to be the original Peking Duck restaurant.
It's insects perched on skewers, some nicely fried, some shockingly squirming, and all ready for consumption.
It's silk shops. It's red lanterns. It's incessant stares from locals who surely – SURELY – have seen a foreigner before. It's good-natured solicitations from rickshaw drivers. It's ancient pharmacies selling weird stuff. It's the confusing & alien script and the bastardized translation into English that always makes me smile.
It's familiar sights & familiar, albeit still somewhat strange smells. It's a bicycle bonanza. It's suspect traffic manoeuvres and a perceived absence of road rules. It's crumbling old making way for tacky-looking new. It's destitute types rummaging through the bins in search of recyclable material. It's the homeless, always passed out and sheltering in underpasses. It's a sparkling air-conditioned Gucci & Prada outlet beside some dilapidated & stuffy family-owned convenience store.
It's basically the same as it always was, the ever-present push to modernise aside, on this my 7th visit to the capital of the world's superpower wannabe, somewhere I always seem to visit these days in order to get elsewhere, this time North Korea – the Beijing box has been well ticked over the years and if not for elsewhere I'd have no reason to visit these days. It's a facilitator, but an inconvenience. It's a necessary evil. It's Beijing.
Day 1 || August 10 2017
"The volume – both people & noise – in here, as it always is (I'm well acquainted with this place), was up to max with personal space at an all-too-typical premium."
Image || On the vast concourse fronting Beijing Train Station, Beijing. August 10, 2017.
Day 2 || August 11 2017
"Yes, the complex is large, but it's still no match for the Chinese. Functioning only as part of a collective, they travel, both here at home and when abroad, in huge numbers (60,000-plus descend on the Summer Palace every day during summer, or around about now), they travel en masse and collectively they make quite the racket."
Image || Impressive calligraphy in the grounds of the Summer Palace, Beijing. August 11, 2017.
F
or all my previous trips to
Beijing
, I had yet to visit the city's
Summer Palace
, quite the oversight given its UNESCO World Heritage-listed status. I put that right today, on a horridly steamy day in the Chinese capital.
Summer Palace
Initially built in 1750, when it was named the Garden of Clear Ripples, this was an imperial garden and summer residence, a place of reprieve for the royal family of the Chinese Qing Dynasty (1644-1912) who would come here to escape the insufferable heat of the Forbidden City in central Beijing, about 10 kilometers away. And a rather large reprieve it was too – covering almost 3 km², 75% of which is water in the form of Kunming Lake, the Summer Palace combined political and administrative, residential, spiritual, and recreational functions within a largely man-made landscape of lakes and mountains and all in accordance with the Chinese philosophy of balancing the works of man with nature. Razed by Anglo-French forces in 1860, rebuilt in 1888, when it was renamed the Summer Palace, damaged again in 1900 during the Boxer Rebellion, opened as a public park in 1924 and awarded UNESCO World Heritage status in 1986, today the site somehow, given the vast numbers that descend on it daily, manages to conserve over 70,000 m² of palaces, halls, pagodas, temples, bridges, pavilions and walled gardens.
The Summer Palace in Beijing – first built in 1750, largely destroyed in the war of 1860 and restored on its original foundations in 1886 – is a masterpiece of Chinese landscape garden design. The natural landscape of hills and open water is combined with artificial features such as pavilions, halls, palaces, temples and bridges to form a harmonious ensemble of outstanding aesthetic value.
– UNESCO commenting on Summer Palace, an Imperial Garden in Beijing
A few more captures today when dealing with the heat & crowds in the grounds of the Summer Palace.
Day 3 || August 12 2017
"It's bucketin' down in Beijing today… I was going to explore a few neighbourhood hutongs to kill some time before boarding the 14-hour overnight train, but that would just be folly in these conditions."
Image || Bucketin' down. Rain in the Qianmen district of Beijing. August 12, 2017.
It's bucketin' down in Beijing today, departure day for Dandong in Liaoning province, the border town for trips into North Korea. I was going to explore a few neighbourhood hutongs to kill some time before boarding the 14-hour overnight train, but that would just be folly in these conditions. And it's not like I haven't done just that – explore the hutongs – over the years. I have, many times, including yesterday on the way back from the Summer Palace.
More captures from the lanes of Qianmen.
More captures while riding the Beijing Metro over the last few days.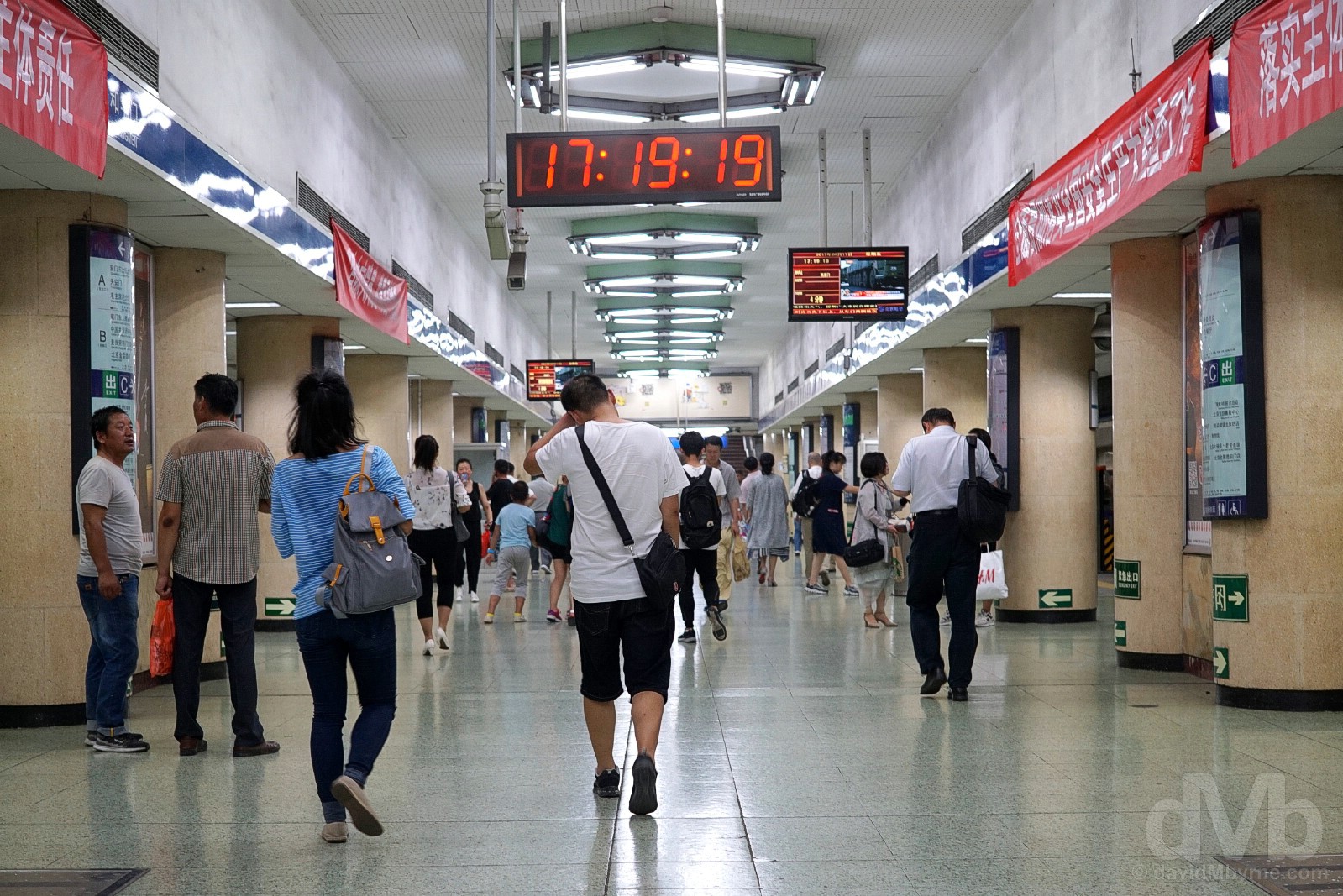 Qianmen Metro station Beijing
Qianmen Metro station of the central loop Line 2, one of the original stations and today one of almost 350 stations – as of mid-2017 – on the Beijing Metro System. Beijing, China. August 11, 2017.
Jianguomen Metro Station Beijing China
Transferring to Line 1 in Jianguomen Metro Station, Beijing, China. August 12, 2017.