Colombia
Twenty-Eight Images From A 2,000-kilometre, 10-Day, 6-Stop, North-To-South Trip Through Photogenic Colombia
Cartagena, Colombia. June 24, 2015
Colombia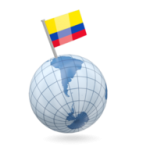 Colombia was epic. It was also quick; not fleeting quick but quick nonetheless. I wanted to spend more time in the country but I had a deadline for getting here to Quito, Ecuador, and having spent too much time loving myself stupid in the Caribbean meant Colombia only got 10 days of my time. I didn't have time to blog as I travelled through the country, and now that I'm in Quito I don't have the time either. I'll eventually get around to adding some insights meat to this skeleton of an entry but for now here's a selection of images, 28 in total, from my north-south, 2000 kilometre, 10-day, 6-stop Colombian odyssey.
The Complete Colombia Gallery
Couldn't be bothered reading the post? Fine, I don't blame you. Here are the pics.
Santa Marta
My first stop in Colombia after crossing the border from Venezuela was Santa Marta. Dating to 1525, this is the earliest surviving town from Colombia's colonial Spanish days. Today it's a busy commercial port & tourist city that's especially popular with diving types. For me it was a classic case of passing through; I had just an evening here, one which I spent looking around the compact and narrow streets of the city's old centre. It was a nice albeit brief introduction to the country.
Cartagena
It is somewhat incredulous to think that I hadn't initially planned a visit to Cartagena, not only one of Colombia's main draws but also as one of Latin America's most historic & photogenic colonial cities. Not surprisingly the city, specifically its UNESCO-listed walled old town, turned out to be the photographic highlight of a very photogenic Colombia – 10 of the 28 pictures presented here are from my time in sizzling hot Cartagena. I'd have been mad to miss the city, as would anyone who is visiting Colombia. Just be warned, you won't be alone in savouring what is the country's most popular tourist centre.
Cartagena is photogenic any time of day but really shines come sunset, easily the best time of day to find yourself wielding a camera in the city.
Medellin
The first of my Colombian overnight bus journeys got me south from Catagena to Medellin. I witnessed a shooting within minutes of arriving in the city off the bus, easily the definitive memory of my time in Colombia's second city. Once the world's most murderous city & a no-go zone for foreigners until the 1993 gunning down of drug lord & local boy Carlos Escobar, today Medellin, with its notorious past well behind it, is a laid-back, leafy city & important coffee centre. Yes, the coffee here is good, as it is all over Colombia.
Bogota
After 2 months of sweat, sun & sunburn, I thought I was looking forward to the chill of Bogota, thought I was looking forward to dispensing with the flip-flops & shorts in favour of socks & some warm clothes. As it turns out I wasn't. It was pretty miserable for the two days I spent in the Colombian capital. It was damp & chilly, both par for the course in Bogota in June, sitting as it does at an altitude of over 2300 metres high in the Colombian Andes. Yes, Bogota was also to be my very first taste of the mountain range that runs for some 8,000 kilometres along the South American continent's Pacific coast.
The chill aside, I enjoyed Bogota, a city of contrasts where modern-day high-rises tower over the remnants of the Spanish colonial past. I also found the city, the drab conditions aside, quite photogenic. I just didn't enjoy being cold and covering up after 2 months of dressing like a beach bum.
Popayan
Another overnight bus trip from Bogota got me to Popayan, a.k.a The White City, a city of stunning, blindingly white colonial buildings, second only to Cartagena as a Colombian colonial architectural showpiece. It was for this reason that I chose Popayan over Cali; heading south towards the boarder with Ecuador with some urgency meant I didn't have time to visit both. Needless to say Popayan is quite photogenic, if a little bright. If you visit don't forget to pack your camera, or your sunglasses.
Ipiales & The Border
My last stop in Colombia was the border town of Ipiales, which I used to as an overnight break in the 14-hour, cross border journey from Popayan to Quito, Ecuador. As border towns go it's not bad. Not bad at all, helped somewhat by its proximity to Colombia's amazing Las Lajas Sanctuary.