EPIC US ROAD TRIP 2017
DAYS 6-14 - SOUTHERN COLONIES - VIRGINIA, THE CAROLINAS & GEORGIA
Image || Carriage ride, Market Street, Charleston, South Carolina.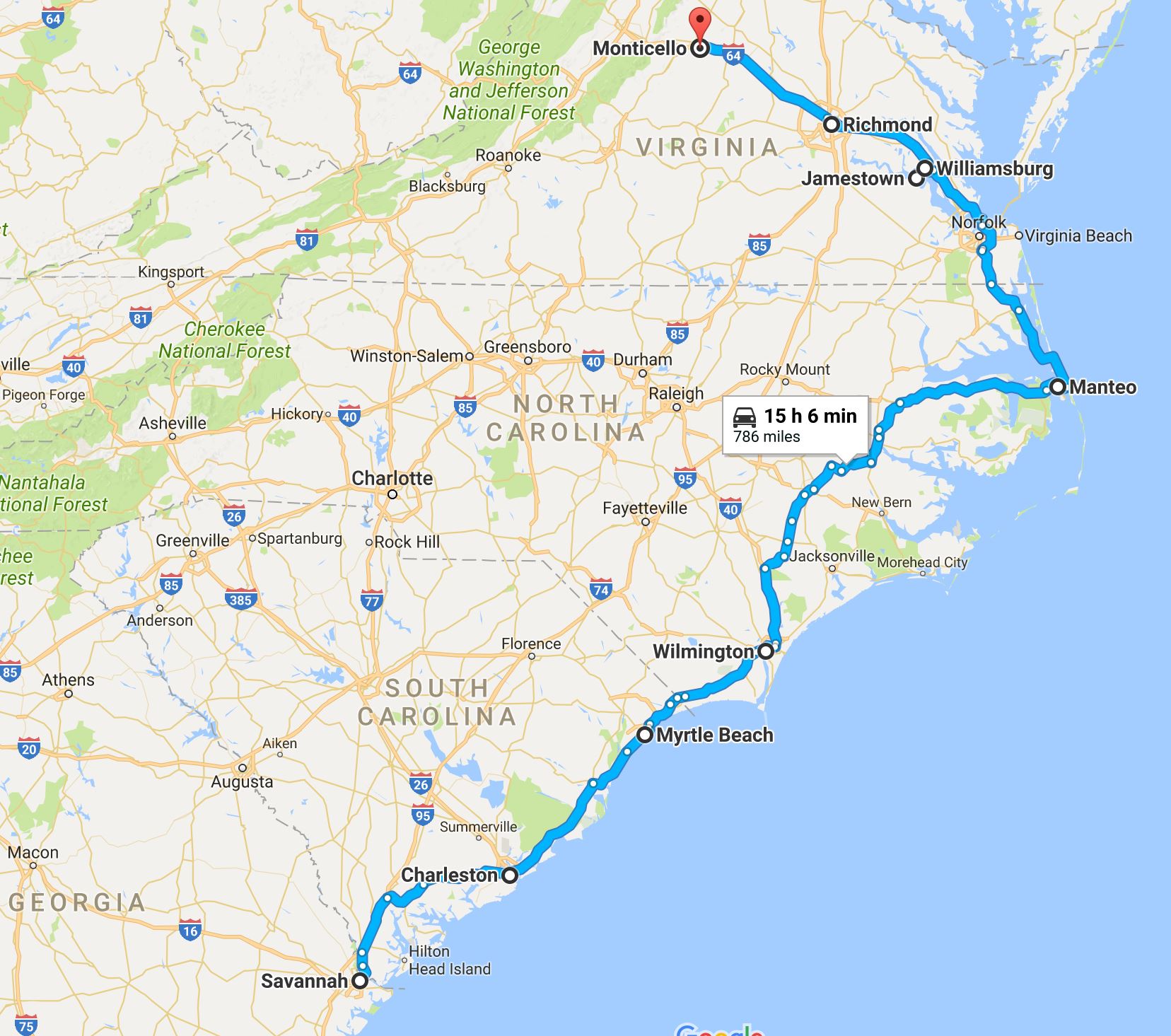 Quick Link Regional Highlights
Quick Link Regional Letdowns
Epic US Road Trip 2017 – Southern Colonies
Virginia, the Carolinas & Georgia. From Arlington, Virginia, the oldest Original Thirteen Colony, in the north to Savannah, Georgia, the youngest, in the South. Over 1,200 miles with the ocean never too far away. There was a lot of history, a lot of water, a lot of bluegrass and a whole lot of photogenic highlights.
dMb US State Digest
AN ORIGINAL THIRTEEN || One of the original Thirteen Colonies, & the very first. Colony & Dominion of Virginia established in 1607. Became the Royal Colony of Virginia in 1624.
Virginia
State Nicknames – Old Dominion; Mother of Presidents; Mother of States. State Motto – Sic Semper Tyrannis (Thus Always to Tyrants). Admitted To The Union – June 1788 (10th state). Population – 8.4 million Virginians (12th most populous state). Area – 42,700 sq miles (35th largest state). Capital – Richmond. National Parks – 1 (Shenandoah). National Scenic Byways/All-American Roads – 2/3. Famous For – History & being the birthplace of America; The Pentagon; tobacco; having a lot of towns & cities that end in 'burg'; the CIA; bluegrass music. State Highlights – All that birthplace-of-America history; rural Appalachian drives between bluegrass lovin' towns. Virginia Titbits – Eight US presidents were born in Virginia giving the state the nickname 'Mother of Presidents'; it's also nicknamed 'Old Dominion' as the first permanent European settlement in the New World was established here at Jamestown in 1607; the Virginia General Assembly is the oldest continuous law-making body in the New World & the state's government, one of the country's most effective, is unique in how it treats cities and counties equally, manages local roads, and prohibits its governors from serving consecutive terms; Virginia is the most populous US state to not have a major professional sports league franchise; Virginia spends the highest amount per capita on defence, in large part because the state is home to the Department of Defence headquarters, The Pentagon, the world's largest office building; the state is armed to the teeth – it boasts the largest concentration of military personnel and assets in the world, including the world's largest naval base; of the 41 independent cities (cities not in the territory of any county or counties), 38 are in Virginia.
Virginia, Part II
On last year's Epic US Road Trip 2016 we sampled – by going south to north in western Virginia – the blanketed cool and misty rolling hills and All-American drives of the rugged Appalachian peaks of the state's heavily forested western spine. There's not a whole lot of (obvious) pioneering history over there. It's all stereotypical rural Appalachia – slow drives between old-time music-lovin' towns & villages full of flags, thrift stores/antique shops, roadside Farmers' Markets & religious bumper stickers on beat-up old pickups. It's a different story over (& down) on the Chesapeake Bay coast where remnants of Virginia's awesome pioneering history are never far away (ditto for water). On this trip to Old Dominion, and aside from a detour into the remote forested hills of central Virginia to espy Thomas Jefferson's UNESCO-listed mountaintop architectural masterpiece of Monticello, we ventured from north to south in eastern Virginia, from Arlington to the so-called Historic Triangle, the undisputed birthplace of America. It was history, history & yet more history.
EPIC US ROAD TRIP 2017 || Day 6
Thomas Jefferson's Monticello, Virginia. October 2, 2017.
"… when touring the innards of the house it becomes plainly apparent that Founding Father & third US President Jefferson was not only an idealist but also something of an eccentric."
Day 6 || October 2 2017
Route || Washington D.C. to Richmond, Virginia (via Monticello, Virginia).
Miles (Kilometres) Driven || 206 (332)
Today's Highlight || Thomas Jefferson's Monticello
We're glad we had Google Maps to guide us because we needed steering towards the end of the 120-mile drive from Arlington to Monticello. It's not as remote as it once was but Thomas Jefferson's iconic architectural masterpiece is still a bit off the beaten track among the rolling green landscape of central Virginia. Our articulate & enthusiastic tour guide, Amy, was right: it does take a rather particular kind of person – an 'idealist' – to pick a remote & heavily forested and uneven hilltop and choose it as a location for one's dream home (built in a Roman Neoclassical style, Monticello derives from the Italian for "little mount"). And when touring the innards of the house it also becomes apparent in a hurry that Founding Father & third US President Jefferson was not only an idealist but also something of an eccentric.
Thomas Jefferson (1743–1826), author of the American Declaration of Independence and third president of the United States, was also a talented architect of neoclassical buildings. He designed Monticello (1769–1809), his plantation home, and his ideal 'academical village' (1817–26), which is still the heart of the University of Virginia. Jefferson's use of an architectural vocabulary based upon classical antiquity symbolizes both the aspirations of the new American republic as the inheritor of European tradition and the cultural experimentation that could be expected as the country matured.
– UNESCO commenting on Monticello and the University of Virginia in Charlottesville, the former the only home in the US to be designated a UNESCO World Heritage site & the latter founded by Jefferson in 1819 and visible from the Monticello gardens.
I'm as happy nowhere else and in no other society, and all my wished end, where I hope my days will end, at Monticello.
– Thomas Jefferson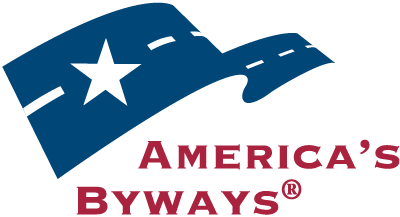 While driving in and around Gettysburg we drove a portion of the wider 180-mile-long Journey Through Hallowed Ground Byway, the second National Scenic Byway of the wider road trip.
The 180-mile Journey Through Hallowed Ground byway corridor from Gettysburg, Pennsylvania, to Monticello, Virginia, is "Where America Happened." It is said that this three-state route, spanning Maryland, Pennsylvania, and Virginia, holds more historic sites than any other in the US. It was an active transportation route during the Revolutionary War, a critical transition zone for the Underground Railroad, and a key battleground during the Civil War. This early corridor was the literal "roadbed" for the creation of our country and American ideals.
– FHWA.dot.gov/byways
EPIC US ROAD TRIP 2017 || Day 7
Palace Green, Colonial Williamsburg, Virginia. October 3, 2017.
"'Take time to go back' is the solid advice from the Colonial Williamsburg Foundation, the non-profit entity that manages the site. Once here, and when absorbing the sights & sounds that suggest the atmosphere and circumstances of 18th-century colonial America, you do just that – you go right back to a bygone era."
Day 7 || October 3 2017
Route || Richmond, Virginia to Manteo, Outer Banks, North Carolina (via The Historic Triangle (Williamsburg & Jamestown), Virginia).
Miles (Kilometres) Driven || 240 (386)
Today's Highlight || Colonial Williamsburg
Another day, another schooling. There was no letup in the history lessons today, Day 7. A morning scoot around the historic Virginian capital of Richmond was followed by an afternoon spent among living history while feeling like a bygone-era interloper on the dusty & period streets of Colonial Williamsburg, probably the highlight of the region's All-American Colonial Parkway-connected Historic Triangle. And when all was said and done we crossed over the Virginia/North Carolina State line for some much-needed downtime by the sands of North Carolina's Outer Banks.
Richmond
Virginia (VA) || The invisible dividing line between the US North & South is around here somewhere. You won't find it of course, it won't be highlighted anywhere, but you will find plenty statues & monuments to the past, plaques highlighting the city's historic clout, & plenty of grandiose architecture lining the grid of streets that is Richmond, the majority of which are landmark edifices inscribed on some kind of register of historic or protected buildings.
Historically Rich Richmond
One of the land's oldest cities, Richmond was founded in 1737, was incorporated in 1742, has been the capital of the Commonwealth of Virginia since 1780 (replacing Williamsburg) & has been one of Virginia's 38 independent cities – cities not in the territory of any county or counties – since 1871. History here stretches back a long way (by American standards), although the predominant history of Richmond is largely tied to the 1861-1865 American Civil War. As the capital of the State at the epicentre of the war, Richmond served as the second and permanent capital of the Confederacy during the warring years (after the capital was moved from Montgomery, Alabama). As such, it was heavily targeted by Union troops during the war and upon its surrender to the Union Army in early April 1865 some 25% of the city lay in ruins. Showing once again an innate ability to recover (Richmond also burned during the 1765-1783 Revolutionary War with Britain), industry was quickly back on track and today the city is something of an economic powerhouse, and an ethnically diverse one at that – Richmond has a large & vibrant African American community.
Historic Triangle & Colonial Parkway
It's a short 40-mile drive south from Richmond to Williamsburg, probably the most visited of Virginia's so-called Historic Triangle trio of Williamsburg, Yorktown & Jamestown. Connected by the All-American drive that is the scenic 23-mile-long (37 kilometres) Colonial Parkway, this Disneyland for historians is one of the most touristed regions of the US east coast, and for good reason.
Williamsburg is Jamestown continued, and Yorktown is Williamsburg vindicated.
– The Reverend Dr. W.A.R. Goodwin, co-founder of Colonial Williamsburg
All-American Road #3 – The Colonial Parkway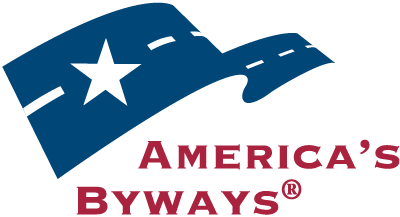 Built primarily for sightseeing and to enhance the experience of visiting the Historic Triangle, the All-American Colonial Parkway runs for 23 miles (37 kilometres) between Yorktown & Jamestown passing through Colonial Williamsburg in the process. Built in sections between 1930 and 1957, the shaded, mostly tree-lined route with distinctive brick overpasses was built so as to shield from the motorist views of regional commercial development, visual 'junk' & US military installations (the US Army has a presence in the region, Fort Eustis, a base we inadvertently drove into), all in a bid to help visitors mentally return to the past. It seems to work.
The Colonial Parkway not only illustrates the English colonial experience in America, but is also an outstanding example of American parkway design. Retaining its original scenic and historic integrity to a remarkable degree, the 23-mile route connects the historic sites of Jamestown, Williamsburg and Yorktown.
– FHWA.dot.gov/byways
NATIONAL SCENIC BYWAYS & ALL-AMERICAN ROADS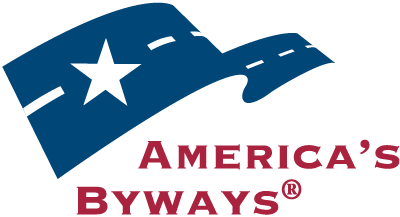 While each state can and does designate its own Scenic Byways, a National Scenic Byway is a road recognized by the US Department of Transportation for one or more of six 'intrinsic qualities', they being archaeological, cultural, historic, natural, recreational, and scenic. The program was established by Congress in 1991 to preserve and protect the nation's scenic but often less-travelled roads and to promote tourism and economic development. The National Scenic Byways Program (NSBP) is administered by the Federal Highway Administration (FHWA).
The most scenic byways are designated All-American Roads. These roads must meet two out of the six intrinsic qualities. An All-American designation means these roads have features that do not exist elsewhere in the US and are unique and important enough to be tourist destinations unto themselves.
As of November 2010 there are 120 National Scenic Byways and 31 All-American Roads located in 46 states (all except Hawaii, Nebraska, Rhode Island and Texas).
Williamsburg
Virginia (VA) || There are two versions of Williamsburg – Williamsburg proper & Colonial Williamsburg – but it's obviously the for-tourists colonial version that gets all the visitor attention. It certainly got ours.
Colonial Williamsburg
A living, breathing, real-life reenactment of 18th-century British America (during most of which, from 1699 to 1780, saw Williamsburg was the capital of Colonial Virginia), the Historic Area of Colonial Williamsburg really is quite the attraction. The world's largest living-history museum is a 300-acre open-air assemblage of restored or re-created period buildings populated with reenactors working, dressing and even conversing as they would have in colonial times. 'Take time to go back' is the solid advice from the Colonial Williamsburg Foundation, the non-profit entity that manages the site. Once here, and when absorbing the sights & sounds that suggest the atmosphere and circumstances of 18th-century colonial America, you do just that – you go right back to a bygone era.
Colonial Williamsburg – History
When Virginia's capital was moved to Richmond in 1780, Williamsburg, which had been capital for the previous 81 years, went into steady decline. In the early 20th century, when many structures were, at best, in very poor condition, the Williamsburg restoration cause was championed by the Reverend Dr. W.A.R. Goodwin, rector of Williamsburg's Bruton Parish Church. The combination of Goodwin's perseverance & the generosity of Standard Oil heir John D. Rockefeller Jr. & family, who shared Goodwin's dream of restoring the old colonial capital city to its 18th-century state, ultimately led to one of the largest restoration projects in US history beginning in the 1920s. Over the proceeding decades some 500 buildings in total were either reconstructed or restored with 88 surviving structures, labelled as original, restored as close as possible to their 18th-century appearance (the majority of the reconstruction of other original structures started in the 1930s). Designated a National Historic Landmark District in 1960, today Colonial Williamsburg survives as something of a unique remnant of times past – while there are other living-history museums, Colonial Williamsburg is unique in that it was constructed from a living town whose inhabitants and post-Colonial-era buildings were removed. Also, Colonial Williamsburg allows anyone to walk through the historic district free of charge and at any hour of the day. Charges only apply to those visitors wishing to enter the historic buildings to see colonial-era craftsmen and arts & crafts demonstrations or those wanting to attend scheduled outdoor performances/reenactments.
Some more pictures from an enjoyable amble around the streets of Colonial Williamsburg.
Jamestown
We drove the Colonial Parkway from Williamsburg to Jamestown, but didn't get to see a whole lot. After the failure of the 1587 'Lost Colony' of North Carolina's Roanoke Island (see below), it was at Jamestown that, some 2 decades later in May 1607, that the first permanent English settlement in the New World was finally established (if at first you don't succeed…). Today there are two major heritage sites at Jamestown: Jamestown Settlement, a state-run and child-friendly living history museum which includes a reconstructed Native American village, a colonial fort and full-scale replicas of the ships that brought the first settlers to the New World; and Historic Jamestowne, the original Jamestown settlement that was only rediscovered in 1994, a National Park Service site which includes Jamestown Island and the ongoing archaeological projects.
We didn't have time to visit either location, but we did drive by. We were historied out. And besides, we had to get to North Carolina, Manteo in North Carolina's Outer Banks to be precise, a 140-mile, 3-hour drive south from Jamestown.
dMb US State Digest
AN ORIGINAL THIRTEEN || One of the original Thirteen Colonies. A proprietary colony established in 1663. Split into the Province of North Carolina & Province of South Carolina in 1712, becoming a crown colony in 1729.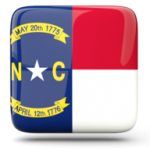 North Carolina
State Nicknames – Old North State; Tar Heel State. State Mottos – Esse Quam Videri (To Be, Rather Than To Seem) (official); First in Flight. Admitted To The Union – November 1789 (12th state). Population – 10 million North Carolinians (9th most populous state). Area – 53,800 sq miles (28th largest state). Capital – Raleigh. National Parks – 1 (Great Smoky Mountains). National Scenic Byways/All-American Roads – 3/1. Famous For – College hoops; the world's first controlled flight of a powered heavier-than-air aircraft (by the Wright Brothers in December 1903 near Kitty Hawk, North Carolina); banking; hurricanes; the Appalachians (in the west); sandy barrier islands (in the east). State Highlight – The Outer Banks & Appalachian drives. North Carolina Titbits – The second territory to be colonised by the British, the state is named in memory of King Charles I (Carolus in Latin); natives are called 'tar heels', a nickname said to relate to both their tar pine production & their legendary stubbornness; British band Pink Floyd is named, in part, after Floyd Council, a North Carolinian blues guitarist, mandolin player, and singer; the international doughnut chain Krispy Kreme hails from North Carolina; Pepsi was first produced here in 1898; cohabitation of unmarried couples was technically illegal in North Carolina until 2006; the state leads the US in the production of flue-cured tobacco & sweet potatoes, and is second in production of pigs and hogs, trout, turkeys &, emm, Christmas trees.
Outer Banks, North Carolina
|| Day 11 || October 7 || Overlooking Roanoke Sound, Outer Banks, North Carolina.
"…this vacation rental haven is a beach lovers nirvana, a well-established tourist magnet where there's a refreshing dearth of big box stores or chain eateries, a place where sand, sea (and sea breezes), wooden beach houses, laid-back beach towns, historic lighthouses, flip-flops, fishing, sea food and a swashbuckling maritime vibe all dominate. History, too, and heavy-hitting history at that."
Outer Banks Quick Link Highlights
Days 8-12 || October 4-8 2017
Route || Manteo, Roanoke Island (days 8-11) to Wilmington, North Carolina (day 12).
Miles (Kilometres) Driven || 350 (563)
Regional Highlight || Roanoke & Bodie Islands of North Carolina's northern Outer Banks
Charge over for now & with 1,316 miles (2,118 kilometres) already on the clock, North Carolina's northern Outer Banks (or simply OBX if you're hip or in a hurry) slammed on the breaks by both detaining & enthralling us from the end of Epic US road Trip 2017 Day 7 right through to the afternoon of Day 12.
Outer Banks (OBX)
North Carolina (NC) || Covering most of the North Carolina coastline, this narrow and fragile 320-kilometre-long (200 mile) string of barrier islands/sandbars both separate & shelter the US mainland in the west from the vast & blustery expanse of the Atlantic Ocean in the east – from north to south, the islands of Bodie, Roanoke, Hatteras & Ocracoke are linked by bridges, up north where it's more developed, or ferries, down south where an absence of roads means it's way more remote.
Regularly near the top of every published list of 'Best Family Beach Vacation Locations in the US', the Outer Banks region is a major tourist draw thanks to its subtropical climate, its wealth of amenities and its wide and seemingly endless expanses of open beachfront. A vacation rental haven that's a beach lovers nirvana, this is a well-established tourist magnet with a refreshing dearth of big box stores or chain eateries. A place where sand, sea (and sea breezes), wooden beach houses, laid-back beach towns, historic lighthouses, flip-flops, fishing, sea food and a swashbuckling maritime vibe all dominate. History, too, and heavy-hitting history at that: The disappearance of 115 colonists at Roanoke Island's late 1580s Lost Colony, Europe's very first attempt to established a settlement in the New World, is still to this day one of America's greatest unsolved mysteries; and man first flew here when, in December 1903 at Bodie Island's Kill Devil Hills, the Age of Flight took off when the Wright Brothers launched the world's very first successful controlled flight of a powered heavier-than-air vehicle. Needless to say we made sure to find the time to visit the present-day memorials to both of these past momentous events (at Fort Raleigh National Historic Site & the Wright Brothers National Memorial respectively), but only when not enjoying the blazin' bluegrass at the 4-day Outer Banks Bluegrass Festival at Roanoke Island's Festival Park, a.k.a. Bluegrass Island, in Manteo, home base for the Outer Banks. It was the only reason we found ourselves here at all, the only reason we lingered here for as long as we did, happy, very happy, to put the wider road trip on hold to do so.
The Outer Banks has a way of connecting with people, staying with them long after the vacation is over… You'll be rewarded for stepping outside of the ordinary.
–OuterBanks.org
ROANOKE ISLAND
Measuring only 13 kilometres (8 mile) by 3 kilometres (2 mile), accessible only via bridges and sandwiched between the mainland to the west and the larger Outer Banks barrier island of Bodie Island (& the Atlantic Ocean) to the east, I'm guessing it's the relative remoteness & sheltered nature of small Roanoke Island that accounts for its obvious atypical vibe – things are a lot quieter, more persevered & better presented here than elsewhere, especially amid the sun, sea & sand vibe of the Atlantic-facing communities lining neighbouring Bodie Island.
Manteo
North Carolina (NC) || Home for 5 foot-tappin' OBX nights, Manteo is Roanoke Island's largest and only real settlement, and a rather sleepy one at that with a population of only some 1,500. Its small downtown offers a few blocks of wooden homegrown boutiques, antique stores, galleries, book shops, gift stores, bars, restaurants and charming bed & breakfasts with wraparound porches (a.k.a. 'pizers' in unique OBX speak), blinding white fences and manicured lawns, all of which successfully, and whether intentionally or not, combine to set a quaint scene from a bygone era.
In the years to come, as islanders mingle with visitors along the Manteo waterfront, let us remember that on this spot, where so many vessels have been built and launched, dreams still light the way. For how else can you explain how a lighthouse now casts its reassuring beam into the night sky, where the Town's wastewater treatment plant once stood? Safeguarding the environment, honoring our past, and dreaming of a brighter future is Manteo's shining path.
– From a letter by Mayor John Wilson regarding the Roanoke Marshes Lighthouse Dedication Ceremony. September 25, 2004.
BODIE ISLAND
Long, stringy and boasting an intimate relationship with the Atlantic Ocean, Bodie Island (pronounced 'body') is a narrow barrier peninsula that forms the northernmost portion of the Outer Banks (its extreme northern reaches stretch across the state line into southern Virginia). Sandwiched by sandy nature in the north & south, the central portion of the 72-mile-long (116 kilometre) sand bar, and especially around the resort town of Nags Head, is populated & developed, but not in a bad way. This is the Outer Banks after all.
BODIE ISLAND – National Scenic Byway #4 – Outer Banks National Scenic Byway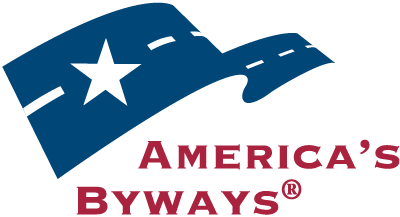 Heading east, it's a short 12-mile drive from Manteo to the Bodie Island Lighthouse. And once you cross Roanoke Sound separating Roanoke Island from Nags Head on Bodie Island (via the mile-long Washington Baum Bridge, a.k.a. the Manteo / Nags Head Causeway) you're driving a portion of the Outer Banks National Scenic Byway. I knew there had to be a national scenic byway around here somewhere.
The Outer Banks Scenic Byway's unique maritime culture references historic events with stories about piracy, war, shipwrecks, and hurricanes. Explore North Carolina today — the coast is calling.
– FHWA.dot.gov/byways
BODIE ISLAND – Bodie Lighthouse & Cape Hatteras National Seashore
The Cape Hatteras Lighthouse, located near the southern tip of Hatteras Island, an 80-kilometer (50-mile) drive south from Manteo via the Outer Banks Scenic Byway, is arguably the centrepiece landmark of the wider Cape Hatteras National Seashore and the towering OBX beacon that's most likely to get the pulse of a pharologist racing – at 64 metres (210 feet), it's the tallest lighthouse in the US. However, the 48-metre-high (158 feet) Bodie Lighthouse, a more accessible 20 kilometres (12+ miles) from Manteo, has its own story to tell, as most historic lighthouses do.
There is no part of the Coast of the US which requires a Light House more than Body's Island – 'tis in the direct route of all going North or South & of all foreign vessels bound into the Chesapeake… there were fifteen wrecks in sight at one place…
– Thomas H. Blount, customs collector, in a 1843 letter to US Representative Ed Stanly soliciting funds to build Bodie Lighthouse.
BODIE ISLAND – Nags Head
The beach town of Nags Head, with its abundant vacation rentals (Outer Banks rental homes are both more abundant and more affordable than hotel rooms), family-friendly on-the-beach relaxation and off-the-beach amenities & amusements, is around about where OBX tourism reaches its zenith, not surprising really as vacationers have been frequenting from as early as the 1830s this North Carolina 'tourist colony', as Nags Head was then known. Suffice it to say, it's a tad quieter this time of year than one would expect to find it at the height of the July-August summer season, but there's still a lot more of a buzz here than is absent among the underdevelopment of a few miles south – regardless of the time of year, the further north you venture the busier the Outer Banks gets.
Nags Head has a long history of being a much-loved vacationers' paradise, and the sentiment is as true today as it was in the mid-1800s. With a world of fun just waiting around every beach block, as well as miles of privacy if a vacationer so chooses, Nags Head comprises the very best the Outer Banks has to offer.
– www.OuterBanks.com
BODIE ISLAND – Wright Brothers National Memorial
Ten kilometres (6 miles) north of Nags Head, on a windy an open expanse of sand that's now a nationally protected (since 1927) expanse of green grass, the course of world history changed forever as a result of a momentous 12-second event that occurred here at 10:35 a.m. on a mid-December day in 1903.
The Wright Brothers & The First Flight
Orville & Wilbur, the aviation pioneering Wright brothers who are regarded as the first to make serious studied attempts to solve the obvious problems presented by powered and controlled flight, had been coming to the Kitty Hawk dunes of the Outer Banks, a location chosen because of its wind, its isolation and its hospitality (the brothers needed local help), since 1900, the failures and lessons learnt over the previous 3 seasons standing them in good stead in December 1903 on their fourth trek from their home base in Dayton, Ohio, some 700 miles to the northwest and a rather arduous undertaking in the early 1900s (I bet they wish they could have flown). The success of their Wright Flyer on December 17 of that year, when Wilbur was 36 & Orville 4 years younger at 32, was to be the culmination of 4 years of experimentation & toil, all of which came to an end when Orville won a game of Rock–Paper–Scissors (not really) to pilot the maiden flight and make heavy-hitting history in the process.